Eight students participate in the DEVOS Erasmus+ Programme in Klagenfurt, Austria
DEVOS (Developing Outstanding Sustainable Entrepreneurship Competencies) is a hybrid training programme on sustainable entrepreneurship presented by the Carinthia University of Applied Sciences and the UAB School of Tourism and Hotel Management.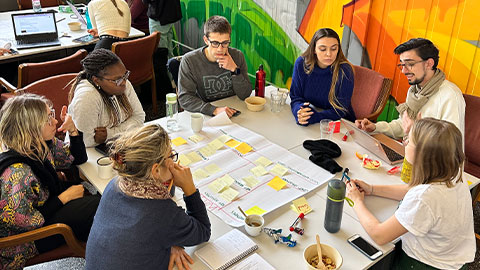 Undergraduate students Helena Flo, Esther Ramírez, Daniel Sahuquillo, Ángela Sanchez, Laia Herraiz, Sofia Bijloo, Paula Herranz and Miguel Puertas have been part of the Erasmus+ DEVOS (Developing Outstanding Sustainable Entrepreneurship Competencies) programme, promoted by Professor Anna Zinenko and Eithne Knappitsch (Carinthia University of Applied Sciences).
The students traveled from December 1 to 6 to Klagenfurt (Austria) to participate in person in different work sessions on sustainable entrepreneurship and the development of innovative ideas that respond to the Sustainable Development Goals (SDGs).
Professor Anna Zinenko advising the young participants in one of the sessions that took place at Markerspace Carinthia, in Austria. | Photo: DEVOS programme
It is the first time that the bachelor's degrees in Tourism and Hotel Management participate in a project of these characteristics, known as a blended intensive programme, which combines part of the training project in face-to-face format and another online - in the case of DEVOS this was carried out a few weeks before to give participants a chance to meet.
In total, 48 students from Carinthia University, the University of Ljubjiana, the Università degli Studi di Udine and the UAB have participated.
Connection with the Alpes-Adriatico entrepreneurial network
During their stay in Klagenfurt, the students worked in 9 interdisciplinary teams to develop a sustainable project idea, and participated in different workshops on how to defend a business idea -make a pitch-, how to conceptualize a project or develop a business model canvas, among others. All sessions took place at Makerspace Carinthia, a hub for entrepreneurs and creators in this cross-border area.
The participants were advised by university professors and entrepreneurs from the Alpes-Adriatico region, such as: Alexander Mann, board member of Startup Carinthia, Johann Schabauer, business coach, Jose Antonio Morales, entrepreneur and creator of co-working spaces in Slovenia, Gloria Bottaro, Innovation Manager at Carinthia University, Iris Einöder, founder of the communication agency KNALLWEISS and Daniela Planinschetz-Riepl, entrepreneur and coach at Startup Carinthia.
On the last day, the teams had to defend their business ideas in front of a jury made up of entrepreneurs and start-up representatives, who subsequently selected the winning proposals.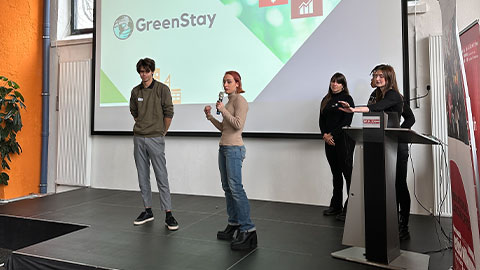 Student Paula Herranz explaining the initiative of her working group: the creation of a digital certificate based on the 17 sustainable development goals. | Image: DEVOS Programme
Exchange of experiences and practical application
Paula Herranz is one of the students who has requested the scholarship to participate in DEVOS, to meet again and work with people from other parts of the world after having completed the Global Case Study Challenge last year. She defines it as "the best experience in my journey during the degree", since it has allowed her to apply concepts learned during the degree in an international context, and obtain interdisciplinary training applicable to the curriculum.
Laia Herraiz agrees with Paula that one of the main benefits of DEVOS is having been able to develop a project at the Markerspace Carinthia facilities. Her group was made up of university students from Bulgaria, Hungary, Germany, Italy and Slovenia, with whom she devised a company to manufacture ski and snowboard equipment with recycled materials. For her, it has been the "first real experience" in which she has been able to "create" and "be prepared" in case she wanted to bet on entrepreneurship in the future.
For Anna Zinenko, DEVOS has been an opportunity for students to acquire sustainable skills that allow them to cultivate critical thinking, address challenges from a multidisciplinary and systemic perspective, and also "collaborate and find synergies" between organizations and actors that are part of projects, businesses or social initiatives.