Anne Cheng talks of the "return of Confucius" to modern China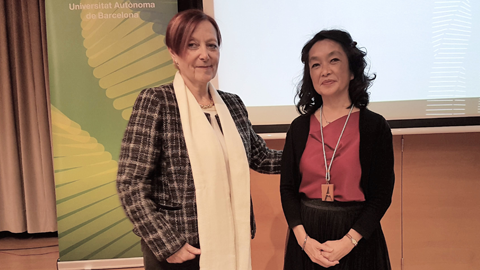 The UAB has become the first university in Spain to award an honorary doctorate to a person specialised in the field of East Asian Studies. Anne Cheng, professor at the Collège de France, offered a speech entitled "The Return of Confucius to Modern China".
28/11/2019
Anne Cheng spoke on the influence of the philosophy of Confucius throughout time at the acceptance speech she gave upon receiving an honorary doctorate award from the UAB. The ceremony took place at the Rectorat building on 28 November.m Rector Margarita Arboix qualified the French sinologist's academic contributions as a "breath of fresh air for our minds", which help us "learn about the path of the past to walk the path of the future". Dr Cheng's sponsor, Joaquín Beltrán, highlighted that it was the first honorary doctorate awarded in Spain to an expert in the academic field of East Asian Studies.

In her acceptance speech, Dr Cheng briefly explained the core ideas of Confucius philosophy, in which "learning is learning to make oneself into a human being", and she spoke of the fact that in the past few decades, Confucius philosophy has gone from being philosophical tradition set aside progressively during more than a century to being recovered both at political and at mediatic and intellectual levels.

The new honorary doctor described the increase in academic studies on Confucianism and how this philosophy has made a place for itself within the education community. She also emphasised that Confucianism has been used by the Chinese regime as a tool to "rebuild a national identity around an iconic figure". According to Dr Cheng, this represents an "artificial connection between cultural tradition and modernity". And she spoke ironically about the idea of using a traditional Chinese philosophy as the basis on which to build a "harmonious socialist society", according to an expression coined by President Hu Jintao.

During the closing speech, Rector Arboix stated that it was an "enormously wise choice" to nominate Dr Cheng to an honorary doctorate after having been proposed for the award by the Faculty of Translation and Interpreting, since she "has provided a critical perspective to the knowledge of China and its philosophy". Rector Arboix highlighted that the works of Dr Cheng "bring us closer" to a world that is "culturally far, but seems increasingly more familiar to us" and reflected onthe fact that Confucius philosophy "will serve to answer many of the challenges posed by globalisation".

The ceremony included musical performances by Yang Lingbo, who interpreted several traditional Chinese songs on the erhu (a two-stringed bowed musical instrument), and by the UAB Chamber Choir, who interpreted the traditional song Zài nà yáo yuan de dì fang and the university hymn Gaudeamus igitur. Simultaneous interpreting was offered by students of the university master's degree in Conference Interpreting.