Alliance to foster scientific vocations in Barcelona
The UAB, through its Department of Chemical, Biological and Environmental Engineering, will be working with other institutions to make the training programme "Repte Experimenta" reach education centres in Barcelona. Organised by the Rovira i Virgili University to foster scientific vocation among secondary school students, the alliance created to conduct this programme also includes the involvement of the Spanish National Research Council's Marine Science Institute.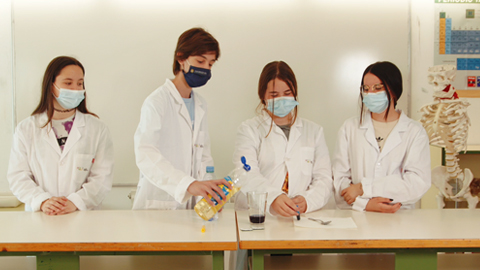 The objective of the Repte Experimenta programme is to assist secondary schools in fostering scientific experimentations among their first and second-year students through the learning-by-doing model. Created in 2020 by the Rovira i Virgili University (URV) in Tarragona, the project will also be conducted during the 2002-2024 academic years in the province of BArcelona, thanks to an alliance between the UAB Department of Chemical, Biological and Environmental Engineering, and the Spanich National Research Council's Institute of Marine Sciences.
The two Barcelona institutions, alongside the URV, the Catalan Institute for Chemical Research and sponsors from the chemical and biotechnological sector, will make it possible for two hundred scientific professionals to guide students through their first experiments. The programme will also include the collaboration of the Spanish Science and Technology Foundation and the Ministry for Science and Innovation.
At present, ten secondary schools have been selected, of the 44 centres in 16 counties which applied for the 2022-2024 edition of the programme. The more than 1,600 students in their first and second years of the secondary schools selected (five state-run and one semi-private school) will receive the support of professional scinetists who will guide them in the design and completion of scientific experiments made with household items. In the Barcleona province, the programme will be conducted in the schools FEDAC Sant Andreu in Barcelona, Escola Sant Gabriel in Ripollet, and the Institut Josefina Castellví i Piulachs in Viladecans.
The Repte Experimenta programme encourages students to design and carry out a scientific experiment using household items. Each centre will select the best experiments which, through the Experimenta Workshops, will be taken to 5th and 6th graders in nearby school centres, thus fostering interactions between students and bringing the STEM disciplines closer to younger students. At the end of the programme, the Experimenta Fair will include 30 selected experiments from the different centres and award prizes to the three best groups of young scientists.