"Acknowledging formal equality is not enough if it is not implemented"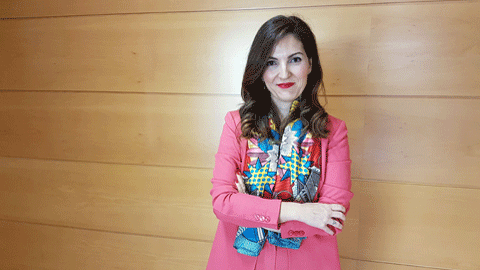 The Spanish Association of Women Judges' mission is to raise awareness on the need to defend human rights, particularly those of women, who are often victims of inequalities. The association's spokesperson Judge Lucía Avilés gave the inaugural speech for the 2018/19 academic year at the Faculty of Law.
30/10/2018
Judge Lucía Avilés is spokesperson of the Spanish Association of Women Judges. On 26 October she offered an opening lecture of the 2018-19 academic year at the Faculty of Law entitled "Feminism and Law: the (r)evolution of justice".

The judicature is now made up of 52% women. Are we progressing in equality in the judicial profession?

We make up more than half the judges in the courtrooms, but when it comes to judicial leaders, we only represent 13 or 14 per cent. This lack of leadership translates into the invisibility of our legal voices and of the female perspective in cases when it is necessary. And this is due to the lack of implementation of the equality law and the lack of force of the judicial profession's equality plan, which affect aspects such as family reconciliation or co-responsibility. As happens with other women workers, in the end we find ourselves taking on the tasks of unpaid family care, instead of taking courses and improving our training, aspects which are taken into account when deciding on a candidate for a discretionary appointment at the top judicial levels.

Do you consider that, in general terms, sexism exists in the judicial field?

There is sexism just like in the rest of society. As any other professional sector, we reflect the reality of a sexist society, and this exists in the judicial field as well. However, there is a bonus in this field: our work directly affects the lives of other people. In specific cases, we decide on a person's assets, family affairs, etc. If we base ourselves on a naturalisation of stereotypes and gender roles and we transfer them to legal rulings, the discrimination "boomerangs" and affects citizens twofold.

To what extent can Spain's legal framework guarantee equality between men and women?

With regard to the judicial field, articles 16 and 51 of the Equality Law specifies gender quotas when appointing judges to discretionary posts. These female quotas have not been respected in the public administration. It is no longer taboo to speak of the need to increase the number of women in top management levels in private companies, but in the case of the judicial power, which is under the power of the state and is supposed to guarantee equality even within its own structure, there seems to be no error. And that is not true. The implementation of quotas within the judiciary branch may be adequate and necessary to achieve an equality which is after all a right.

What about beyond the legal field?

We have a very powerful legal framework but, as the very own law on equality states, acknowledging formal equality is not enough if it is not implemented. For example, equal salaries will not become a reality if at the same time we do not modify the load put on unpaid family caregivers. In other words, nothing will change if legal acknowledgement is not accompanied by implementing the law.

On another note, what should be done within the judicial system to advance towards the total eradication of gender violence?

There are two basic elements to that, education and justice. States are obliged to prevent, penalise, repair and investigate all violence against women. Prevention implies the removal of social and cultural structures reflecting the stereotypes forming the basis of inequality and therefore of gender violence. Prevention translates into the creation of adequate awareness-raising plans, into the responsibility of social communication media and the cross-curricular education in human rights matters. And the need to investigate, repair and penalise all acts of violence against women is an undeniable cry for the judicial branch to modify the criminal code and adequate training in equality (mandatory, cross-curricular and periodic) for all legal actors: not only the judiciary, but also public prosecutors, coroners, state security forces and bodies, legal professionals and any other sector which directly or indirectly can come in contact with the victim.

Why do you think the famous "La Manada" gang rape trial ended in a sexual abuse sentence, and not sexual assault?

The evidence clearly describes a case of rape, non consensual sexual intercourse imposed by force or intimidation. But the judicial qualification it was given was not of sexual assault, but of sexual abuse. Today, sexual abuse forms part of a hodgepodge within our legal system because it covers anything from touching a woman's breast to non consensual intercourse with someone who is unconscious, for instance. In this sentence, what was qualified as sexual abuse was seen by society as rape. Consequently, this definition outraged protesters and sparked a fierce debate on the normalisation and naturalisation of sexual violence against women, as well as the need to change judicial structures and discourses. The feminist legal theory aims to close the gap between the justice system and society. How? By applying a technique endorsed by the United Nations which is the application of a gender perspective to criminal procedure laws, which aims to eliminate the stereotypes found in judicial procedures.

Does our legal framework incorrectly define sexual assault?

The criminal code differs to what is considered sexual violence by both the World Health Organization and the Istanbul Convention, which states that violence against women is any act of violence committed (physical, psychological, sexual or of any other type) affecting women for the sole reason of being women or affecting them disproportionately. These two adopt a very broad concept of sexual violence: anything that is not consensual sexual conduct. This is what our criminal code should adopt as well.

Would you say that the media conducts parallel judgements in these types of cases?

Yes, it does. The media's responsibility is important especially for the information and education it provides and, in some cases, the way the news treats certain topics should be reviewed. We have come a long way since the murder of Ana Orantes by her ex-husband, a case which marked a before and after in these types of news. But we must continue to advance. In this sense, it is very important to see feminist reporters defending a type of journalism catered to the new social feminist revolution.

After this historical year, will the fight for equality maintain its current rhythm?

I believe it will; now is the moment. We will finally end up understanding that the viewpoint of women is necessary in regulation social relations and social coexistence.

And this commitment to advance towards equality is transmitted to the law faculties of Spain?

Of course. In addition, as a jurist, I believe the knowledge of feminist legal theories must be implemented in university training, not through specific subjects but as a mandatory and cross-curricular training included in all subjects. Neither can we forget about training in women's human rights and in learning about the great women jurists who have existed throughout our history.
More information: Faculty of Law