34 internships with study help to explain the UAB to future UABers
We are offering 34 internships to help us tell future students about the UAB and university life on campus for the promotional activities which will be held in 2023. Deadline for applications is 9 October.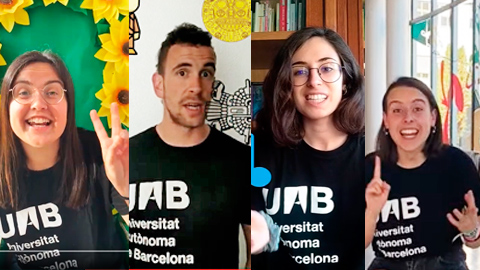 If you are a UAB student and want to share your experience with others, this is your moment! We are looking for 34 undergraduate and graduate students interested in explaining the different degrees and services offered at the UAB and solve any doubts future UABers may have.
We offer three different stays, one with 30 places and two more with two places each:
The first is the Promotional activities which consists in 100 hours distributed throughout the months of January and May 2023, and focusing on student participation in activities and events, as the Education Fair, Open Days, Family Days and other activities, both on-site and online. All of the activities can be found at the #VisitTheUAB website. Students will receive a grant of 746 euros gross in total. A total of 30 placements are offered to students from all faculties and schools, to be able to explain the wide range of academic programmes available at the UAB. You must sign up for Nexus, the offer with the code 32147.

The second type of internship focuses on Campus Visits, aimed at helping us explain the campus and the university through guided tours offered to secondary school centres and individuals and families. The work placement consists in 3 hours daily, from Mondays to Fridays, from the months of January to July. The monthly salary for this work placement is approximately 440 euros gross per month. You must sign up for Nexus: codes 32216 and 32215.

The Youtubers UAB internships are to help us also explain the UAB, but in Youtube format. We are looking for protagonists of the new seasons of Campus Visits Youtube version and UABecedari. There are also practice sessions of 3 hours a day, from 10am to 1pm, from Monday to Friday, between the months of November and July. The study grant is approximately €440 gross per month. You must sign up for the Nexus: 32217 code.
What are the application requirements?
If you are an undergraduate student, you must be enrolled in this 2022/23 academic year, with a minimum of 120 credits passed.
If you are an official master's degree student, you must be enrolled in this 2022/23 academic year.
...and the most important requirement: wanting to have a good time meeting other UABers like you and explaining together the experience of studying at the UAB.
Sounds interesting? You have until 9 October to submit your application through Nexus.
See you soon!
Decent work and economic growth
Reduced inequalities
Quality education