The UAB signs an agreement with the University of Chile
The Universitat Autònoma de Barcelona signed an agreement with the University of Chile with the aim of strengthening relations between the two universities and in particular between the two Faculties of Law.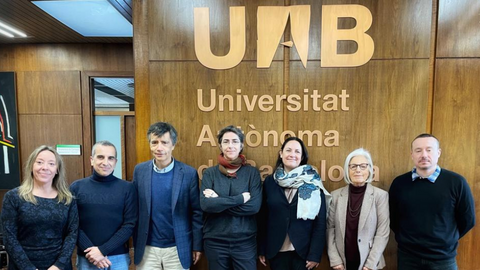 The meeting to sign the agreement took place on Tuesday 24 January and was presided by representatives of both universities.
Attending on behalf of the UAB was Màrius Martínez, Vice Rector for International Relations; Esther Zapater, Secretary General, and Maria Jesús Espuny, Ombudsperson. Els van acompanyar Susana Beltrán, vicedegana de la Facultat de Dret, i Daniel Vallès, professor d'Història del Dret.
Per part de la Universitat de Xile, hi van assistir Álvaro Anríquez, director del Departament de Ciències del Dret, i Aude Argouse, directora de Relacions Internacionals de la Facultat de Dret.
La comitiva va visitar diferents espais de la UAB tant al Rectorat com a la Facultat de Dret de la UAB (el deganat i l'antiga Biblioteca Econòmica Carandell) i la reunió va finalitzar amb una visita a la biblioteca històrica de l'Il·lustre Col·legi d'Advocats de Barcelona.
L'objectiu del conveni marc és enfortir les relacions entre ambdues universitats i, en particular, entre les dues facultats de Dret.