Introduction
180 hectares with forests, crops, meadows, scrubland, riverside environments and gardens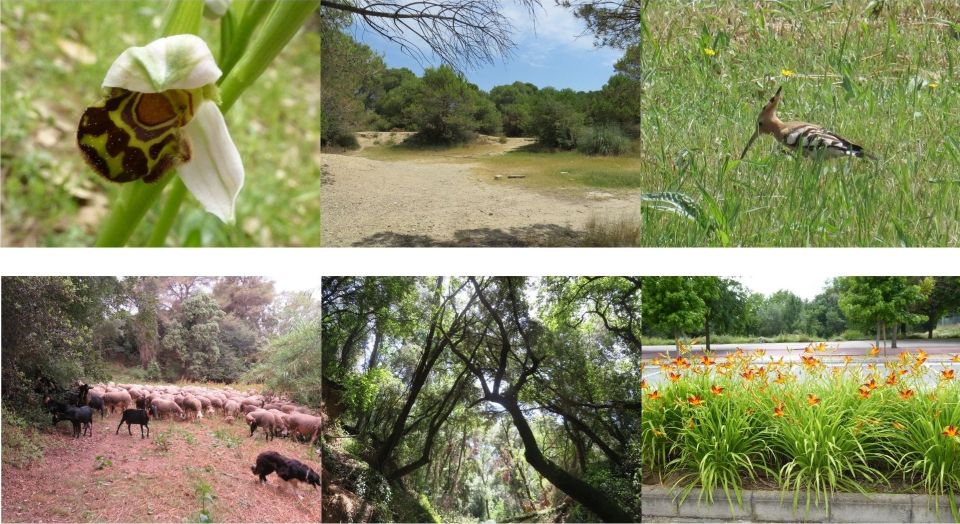 Photos of the agroforestry spaces on the UAB campus. Author: Oficina de Medi Ambient.
The UAB's Bellaterra campus, covering approximately 260 hectares, is located in a highly urbanised area with many different infrastructures. The urbanized area and the landscaped zones are currently concentrated in the northeast part of the campus. As for the agricultural and forestry areas, these occupy approximately 60% of the campus land and are distributed in a mosaic pattern.

The Management Plan for Agroforestry Areas on the UAB Campus (PGAF), drawn up in 2001 and subsequently revised in 2013, is the framework document for the management of non-urbanised areas on the campus. The main objectives of the PGAF are to conserve and improve the natural and historical-cultural values of the space; to facilitate public use and to integrate agroforestry spaces into urban and territorial planning.
Operational objectives of the management of agroforestry spaces
To plan the territory with sustainability criteria.
Maintain the crops field, meadows and improve other open areas of the campus.
To carry out sustainable forest management.
To improve the state of the campus' streams.
To organize public use.
To manage the landscaped areas with sustainability criteria.
To know and manage biodiversity.