University conference for ethical public purchasing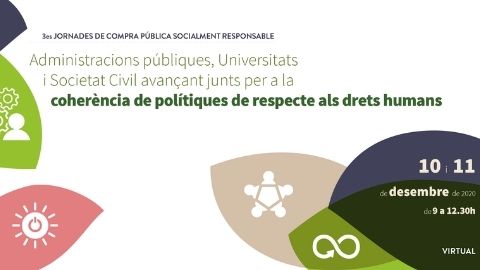 The 3rd Conference on Ethical Public Procurement placed etichal procurement as an essential piece for the coherence of policies of the administrations and the university as an agent for promoting responsible contracting. The conference was held virtually on December 10 and 11.
24/11/2020
This new edition worked under the motto "Public administrations, Universities and Civil Society working together for coherent human rights policies", and the final goal was to promote public procurement as a key part of sustainable production and consumption, respecting human rights and the planet.
This event took place on the 10th and 11th December online, and it was aimed at everyone interested and, especially this year, to the students and teachers of the university. If you want to, you can still see the conference through their YouTube Channel.
Ethical Public Procurement
Public procurement is key to promote sustainable means of production and consumption and a more inclusive economy. It also has great potential as a mechanism to promote respect for human rights from transnational companies and coherence in the administrations as highlighted in the Agenda 2030 and the goal of 12.7 ODS.
Nevertheless, the power of action from transnational companies is still a big threat for both the compliance of human rights and a sustainable management of the natural resources, especially in countries in conflict and other unequal and impoverished social contexts, from the South as well as the global North.
That's why public administrations and global justice organizations from Catalonia work together to give continuity to a social process to incorporate ethical public procurement as an essential part for the coherence of policies in the administrations' area, which for this event was joined by the university sector.

An event that will explore the field of electronics, food and international experiences
The training days offered a chance to reflect and wonder about the principle of integrity in public procurement, and they tackled important sectors in the extraterritorial impact of the companies- such as technology/electronics, food industry and healthcare; they announced the advancements in the international and national field in the tools to improve transparency and in the systematization of human rights violations; and finally they showed examples of good practices in the acquisition of equipment for public health and cleaning services, among others.