Interview with professor and activist Arcadi Oliveres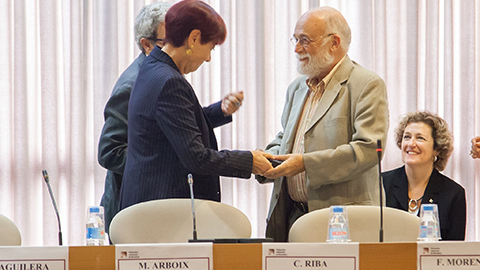 Arcadi Oliveres is the honorary chair of the FAS Advisory Council, to which he has been associated since its beginnings as the Solidarity Autonomy Committee, a professor at the UAB and an activist for peace and human rights. As part of its 20th anniversary celebrations, the FAS was preparing a tribute in his honour in March, which it is hoped can now take place at a later date. In the meantime, we can get know a little more about him in this interview.
29/07/2020
"A university, par excellence, should be one of the basic drivers of social change."
You have taught at this university for thirty-six years. What brought you here?
It's hard to believe, but I came to the UAB because of an advertisement in La Vanguardia. I graduated in 1968 and for the first ten years I worked for a family business that ended up folding because of the oil crisis.
So, I started looking for work in the newspaper ads. I saw one for a firm that was independent at the time, but was later incorporated into the UAB. It was the Sabadell business school. It was the old School of Commerce that was created in the 19th century in the city to support the needs of the local trade industry and that over the years, doing typical surveying, faculty and business administration work, was incorporated into the UAB when it was created. That centre needed teachers to start the year and to be honest I had never worked in teaching before, apart from a few private classes when I was a student. It was just a temporary job at the time, and a very unstable one, but as time went by, I was able to consolidate my position and the story has ended up lasting thirty-six years.
- Despite being an economist, most of your teaching has been done outside of the Faculty of Economics. Why is that?
Luckily for me, and because I felt so comfortable there, from 1980 to 1992 I was at the Business School itself. Physically, I didn't go to Bellaterra, apart from the odd meeting.
But that changed when they relocated the Business School, which used to be in a place that was very easy to get to. That change made me think that I might be better off on the Bellaterra Campus, so I applied for a transfer in 1992. I taught there for two years in the Faculty of Economics. That was a major turning point, because I realised that the economics taught at university — even though I had excellent colleagues, wonderful people who I am still in touch with now — was economics purely at the service of capitalism, and I didn't like that very much. The Business School was very small and very closely-knit. You kind of did whatever you wanted. But on campus, in a faculty as big as the economics one, each subject had groups and each group had its teacher. So, all that intellectual freedom that I had so clearly had in Sabadell was somewhat lost, because even though I quite understand why, you had to agree on things with other colleagues teaching the same subject, and so you feel a bit more limited. And as I had always presented economics in my own way at the Business School, I didn't like being so constricted in the Faculty of Economics. So, I went to see the chap was the head of the Department of Applied Economics at that time, Mr. Joan Trullén and he, very kindly, offered me a place in the Faculty of Political Science that a retiring lecturer had vacated.
After two years of teaching economics, I switched to politics, and the truth is that because of the smaller groups and the type of syllabus, I was able to kind of do what I wanted. I started in 1993/94 and stayed there for more than twenty years. However, there weren't enough politics classes to cover the number of hours I had to do, so I had to complement them with other classes, no longer in the Faculty of Economics but mainly in Law, Education and Journalism.
Meanwhile, I also went back to the Faculty of Economics for two or three years, not to teach subjects on the core syllabus, but to teach an optional one. That one was promoted by different student unions, as they felt that the economics they were being taught followed too neoliberal a model, and they asked the rector at the time, Carles Solà, for a kind of subject that they themselves decided to call "Critical Economics." They took three or four of the more critically inclined lecturers in the faculty, like Miren Etxezarreta, Albert Recio... and they put us there so that each of us could do a small part of the subject. This went on for three or four years and was promoted by the students behind it.
It's probably not easy, but if you had to pick something, a moment, an idea of ​​your time at the UAB, what would it be?
For me, the moment of greatest joy that the university has given me was when the UAB faculty declared José María Aznar a persona non grata. At one point, when he was head of government, Aznar came to visit the campus, invited by the National Centre for Microelectronics, as the UAB would have steered clear of inviting him. I guess the information that Aznar's entourage had about what they were going to see wasn't the best information. They thought they were going to a quiet research centre and found themselves right at the university. The news that Aznar was at the UAB spread quickly among the students and they gave him the welcome he deserved. And then the police escorting Aznar turned nasty and started hitting and chasing people. The next day the university faculty met, and furious about what had happened they declared Aznar a persona non grata and banned him from setting foot in the UAB ever again. I assure you that that was the most orgasmic moment I have ever experienced at the Autònoma.
- How do you rate the role that universities have played in working for social change?
A university, par excellence, has to be one of the basic drivers of social change. Unfortunately, they have not done as much as they should have. We all know that universities, partly because of the way they functionalise their staff, make everyone very stuck to their chairs and that most certainly causes people to stop being change-minded or revolutionary. And so, the spirit of social change gets a bit lost. Evidently, however, there are always individual cases, small working groups that have kept the spirit of change alive.
Then I also think there is a very serious element, like the implementation of the Bologna Plan. Together with Jaume Botey and other colleagues, we tried to get the university to campaign against the plan, because we felt it was clipping our wings on that journey towards change. Under the pretext of greater professionalism, scientific progress... they clipped the wings of social change.
This has already taken hold of me lately and it is precisely these last few years that have made me feel compelled to split from my beloved faculty of politics. That was because the subject I taught disappeared from the syllabus when the Bologna Plan came into force. They replaced it with an optional module and changed its name from World Economics to International Trade, which clearly shows how these courses are being commercialised. That new subject led to my departure and I spent my final years of teaching at the Faculty of Law and Journalism, a place where I have always felt very comfortable.
- And more specifically in the case of the UAB? What would you change and what do you view positively?
What I have always appreciated most about the UAB, and for which it was often criticised at first, is the fact that it is a campus university. I think that has worked out very well, because close contact breeds affection. You can study in different faculties, but even so you'll meet people in the corridors, in Plaça Cívica, in castellers or anything like that, and a sense of harmony is generated between students, lecturers and people who work at the university, and I think that is very positive. On the other hand, as a minor negative consideration, this campus format means you lose contact with the outside world. But I'm sure there are more pros than cons. And all that was the result of a punishment, since the idea of ​​universities in this campus format comes from the Franco regime. They wanted people to do their grumbling away from the city.
- To finish, we are currently facing a health crisis that is unprecedented in our times. In the economic and social fields, what do you think the situation is going to be in the coming months?
I believe that capitalism has been able to cross all thresholds; environmental, that of inequality; that of the human interrelation with the migrant issue... What's more, these last few days we have seen the shameful way that fifty-two million euros a day are being spent on preparations for war in the Spanish State. And when the ministers of the Interior and Health have to appear at press conferences escorted by police from the Civil Guard and the military, it makes me feel embarrassed for them.
These months have also revealed the progress in Information Technology with all the social control that has been derived from this situation. I have said this several times and I have been part of certain groups of people that are opposed to Barcelona being the capital of the absurdity that is the Mobile World Congress. It's a disaster in every way. A society that's heading here; that makes mobile phones that control us socially; that to make these phones kills thousands of people in central Africa; that exploits workers in Asia; that here only creates poorly paid jobs; a society that is a disgrace and that spies on all of us. In Barcelona, ​​for example, Ada Colau found that she had to sign a document to renew this thing, even though she didn't want to do so. Fortunately, this year it was suspended, and I hope it gets suspended for good, as it is one of the worst examples of capitalism.
At the end of the day, this is just one more threshold that we have crossed. I get the impression that the coronavirus situation is just a small expression (which has hurt a lot of people) of this society that needs to be reformed. I like to think that all of this will serve as a moment of reflection and that once the fear has passed, we won't go back to our old ways. May this serve to take things further and I get the impression that that is direction we will have to take.