Restaurants
Café - Restaurant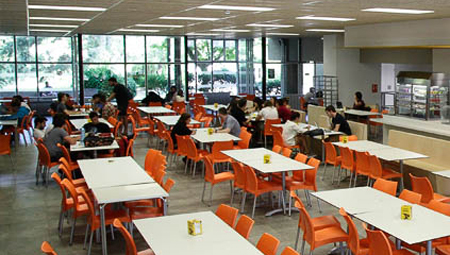 Located inside the Faculty of Sciences and Biosciences. Conceived as a centre with different types of options, adapted to the needs of a campus.
It has two floors:
the ground floor includes the café, pizzeria and restaurant.
The second floor contains the self-service area.

Café: open from 8 a.m. to 7:30 p.m. and serves hot and cold sandwiches, pastries, refreshments, etc.
The café has room for some 500 people.

Pizzeria: a recently remodelled area with space for 82 people, nicely decorated and with piped music. It offers a different types of salads and a large variety of Italian dishes.
There is also a takeaway menu and
the pizzeria is open at night.

Restaurant: Space for 125 people with good table service and all meals cooked daily; there is a set menu and vegetarian dishes which change every day.

Self-service area: Set menus served from 1 to 4 p.m. The menu offers three first courses, three main courses and desserts. There is also a vegetarian menu.
The area seats 300.
More information: UAB restaurants