MRB
Research module B
Research Module B is a space that includes laboratories and high performance facilities to meet the needs of biomedicine and biotechnology companies.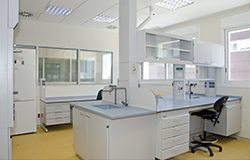 Laboratory and office space:
- Electrical connection for standard power.
- Internet connection (wired / wireless).
- Telephone lines.
- Office furniture: table, chair and cupboard.
- Climate control.