The UAB and Talent Match to work together in applying gamification to the human resources sector
Researchers at the UAB Faculty of Psychology and the human resources agency Talent Match will launch a pilot programme to apply video game logics to the workplace and manage talent through gamification strategies.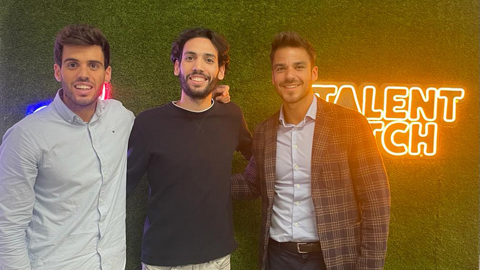 An innovative R&D project since, until now, gamification has been applied basically to the commercial sector, but few times in the human resources sector.
Es pot gestionar un equip de treball d'una empresa amb les lògiques dels videojocs? Aquest és un dels objectius que busca l'acord al qual han arribat la Facultat de Psicologia de la UAB i l'empresa emergent de consultoria en recursos humans Talent Match.
La vicerectora d'Innovació, Transferència i Emprenedoria de la UAB, Rosa Maria Sebastián Pérez, i el fundador de Talent Match, Guillem Llacuna Inés, acaben de signar un conveni per a col·laborar en el desenvolupament de la gamificació en els recursos humans.
Els investigadors del Departament de Psicologia Bàsica, Evolutiva i l'Educació de la UAB Andrés Chamarro i Iván Bonilla treballaran a partir d'ara i durant un any amb els professionals de Talent Match per desenvolupar un projecte d'R+D orientat a aplicar la gamificació a les empreses. "Utilitzarem les lògiques dels videojocs per a gestionar el talent en l'empresa", ha explicat el professor Iván Bonilla.
La gamificació consisteix a fer servir la tècnica de recompenses per objectiu aconseguit per tal de mantenir a les persones participants interessades a avançar en les seves metes. "Alguns exemples d'estratègies de gamificació són l'acumulació de punts, l'escalat de nivells que permeten accedir a beneficis i l'obtenció de premis, entre d'altres", detallen els responsables de Talent Match.
Fins ara, la gamificació s'havia aplicat sobretot en el sector comercial per motivar els clients perquè continuessin consumint o usessin una forma de pagament, però és molt nou que es busqui aplicar-la als recursos humans i a la gestió de talent, un camp que comportarà beneficis tant per a l'empresa com per als treballadors que hi participin.
La consultora Talent Match, fundada per Jordi Valenzuela i Guillem Llacuna, busca trencar els estereotips del sector i vol aportar joventut, dinamisme i la possibilitat de reinvenció mitjançant l'aplicació de tecnologia i intel·ligència artificial per optimitzar els processos de selecció.