Students affected by the conflict in Ukraine receive support from the UAB community to continue their studies
The crowdfunding campaign to raise money for "UAB Refugee Grants, Emergency in Ukraine" will be ending in the following weeks. Until now, a total of 3050 euros have been donated, which will go to covering the academic fees of Ukrainian refugee students. This is the last call to ask for members of the UAB community to donate abd help reach the crowdfunding goal of 20,000 euros.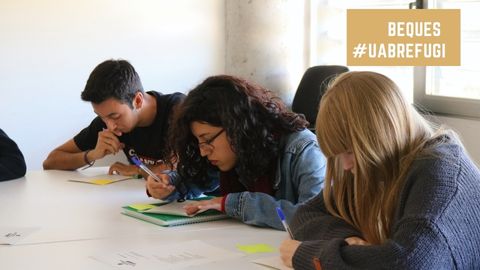 In this 2022/23 academic year, a total of 34 students in situation of refugee have received a grant to begin or continue their university studies at the UAB.
The #UABRefugi grants are an initiative by the UAB Refugee welcone programme. Since 2016, the year in which this programme was launched, the UAB has become a refugees welcome campus, giving support to people seeking international protection. The programme, directed by the UAB's Fundació Autònoma Solidària (FAS), has aided 443 young refugee students. Of these students, 75 were awarded a grant to help them continue or finish their university studies at the UAB.
Els ajuts que permetrà aquesta campanya complementen la matrícula gratuïta d'estudiants refugiats/ades i sufraguen les despeses relacionades amb els seus estudis com són els desplaçaments, material, tecnologia o altres despeses necessàries per a la formació acadèmica. Són moltes les dificultats amb les que es troba aquest alumnati les beques tenen per objectiu final promoure l'accés a l'educació de les persones refugiades.
A inici d'aquest curs, davant l'esclat del conflicte bèl·lic a Ucraïna, la UAB va refermar el seu compromís amb les comunitats acadèmiques refugiades i es va atendre a alumnat afectat pel conflicte a través d'una convocatòria d'ajuts extraordinaris.També va ampliar el pressupost de les beques #UABRefugi per fer possible que més estudiants en cerca de refugi d'arreu poguessin reprendre estudis el curs 2022-23.
En aquesta línia, al maig, s'inicia la campanya de micromecenatge "#UABRefugi – Emergència Ucraïna" per implicar tota la comunitat UAB en el suport a les poblacions universitàries afectades per la guerra. Per al curs 2022-23, 34 estudiants en situació de refugi han obtingut una beca per iniciar o reprendre la seva formació universitària a la UAB. Es fa una darrera crida a la comunitat de la UAB per poder aconseguir el repte d'atorgar més ajuts complementaris per sufragar les despeses vinculades a l'estudi que tindran aquests estudiants.
La campanya per Ucraïna ha comptat amb el suport de 58 donants, la gran majoria del PDI i PAS de la UAB. I amb el testimoni del ucraïnès Nikita Zalevskyi i l'altaveu de la professora Anna Zinenko, alumni UAB.