Seven students star in this year's UAB advertising campaign
Their faces will be appearing on city trains, trams and buses, as well as in different media channels. But they are not advertising just any product: they are advertising the university where they study, the UAB. These seven students from seven different degrees, all have a unique way of experiencing university and each with a different outlook on life.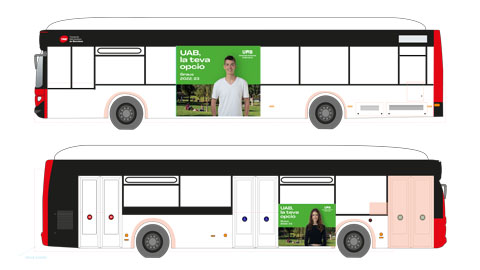 Adrià, 2nd year of Medicine: "This is a very vocational profession, you must be very sure of wanting to be a doctor because you have to make a lot of sacrifices".

Aina, 1st year of Translation and Interpreting: "I feel fully part of university life, I am living a more free and open life than I was in high school and this is very satisfying".

Eric, 3rd year in Audiovisual Communication: "Studying at university during the pandemic has been difficult; that is why now, when classes end, I stay around campus and exercise or play sports".

María, 1st year of Chemical Engineering: "There are mostly boys in my class, but it doesn't bother me, I am studying something that I like".
They are not professional models, nor are they used to the spotlights and professional photo studios. But they are proud of studying at the UAB and decided to go for it: they sent a photo and CV when they heard that the UAB Area of Communication and Promotion was looking for people who could "transmit the experience of studying at the UAB with a look and a smile". The only condition was that they all had to be students currently enrolled at the UAB.
And that is how one November afternoon the audition was held, in a professional photo studio. "We were looking for students with a very natural image to them,. who could represent the diversity of our campus", members of the UAB Promotion Department told us. This is not the first time the university emphasises naturalness in its advertising campaign, and invites its own UAB students, or "UABers", as they are known, to star in the campaign. However, it is the first time so many different people signed up, 160 candidates. A great success! And finally, seven students were chosen: four for the undergraduate campaign, Eric, Aina, Olga and Maria; and three for graduate programmes, Adrià, Sofía and Laura. Each student received a monetary compensation of 300 euros, and will be starring in the advertising campaigns which will run from March to October.
"I signed up because I wanted to be in the ad, not for any specific reason, but I do admit that getting paid was a nice bonus", says Adrià León Gallart, 25 years old, from Terrassa and in his second year of Medicine, after having graduated from Physiotherapy and two master's degrees, all at the UAB. "After so many years of studying, I was ready to start at the Parc Taulí Teaching Unit, so I could be closer to medicine professionally". Adrià is probably the most skeptical of our campaign students, probably also because of his many years at university: "Being a doctor is highly valued socially, but in the end, it's not that great; you work a lot of hours, have lots of responsibilities, and earn little money", he explains, and then adds "this is a highly vocational profession, you have to be convinced of what you're doing because there are a lot of sacrifices, but I want to be a doctor, I like the medical field very much".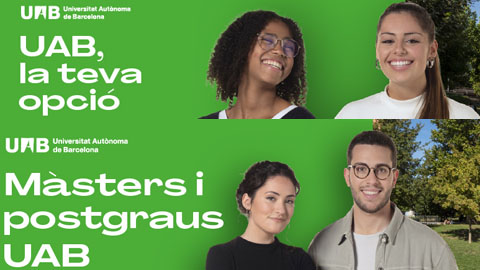 His words of reality clash against those of Aina Da Silva Martí, a first-year student of Translation and Interpreting, who says that university has revived her: "I am very happy studying here, at the UAB: you can live a 100% university life, go to the theatre, cinema, participate in the student associations and cultural activities". Aina, who lives in the Barcelona neighbourhood of Hostafrancs and whose father is from Guinea Bissau-Brazil and mother from Catalonia, is delighted to be studying Translation and Interpreting: "I was certain that I wanted to study something related to languages, ad the UAB offers Japanese as a third language, so I dove straight in", says Aina, who is a devoted fan of anything anime, who is excited about her future trip to Japan as an exchange student in her third year of university. "The truth is that I'm enjoying myself, my lecturers are great, they make you feel at home, and they know every student's name", she says admiredly and comments on the fact that she has met a lot of very interesting people. "I am experiencing all the aspects of university life, the environment here is more open and freer than at secondary school, and that is enriching and makes me feel truly satisfied".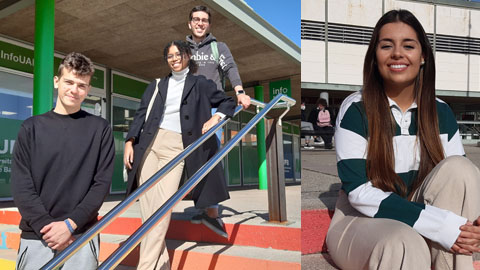 At the moment of the interview, from left to right: Eric, Aina and Adrià; sitting down, María.
Clearly, after the conditions of the pandemic have made these past two years difficult for students, all of them recognise the importance of attending classes and living a "normal" life. This is the case of Eric Sobrevia Escó, a third-year Audiovisual Communication student and enthusiast of everything sport-related, who confesses that he missed this "normality" during these past two years, and that sometimes he lacked motivation. Maybe that is why now he spends many of his afternoons at the Servei d'Activitat Física (SAF) playing football, paddle tennis or swimming. From Montcada i Reixac, Eric realises that the degree he is studying is very practical, and that "you must come into contact with the professional world if you really want to work in this field". "I would love to work in audiovisual directing and production, but it is not at all easy". Eric and another one of our "UABers" will be the stars of the UAB's YouTube videos dedicated to showing future students different aspects of the UAB campus.
Something similar happens to María Sánchez Molina, a first-year student of Chemical Engineering, who signed up for the audition because she wanted to see herself on the side of the Tram and FGCs. María also likes sports, particularly basketball, which she played regularly until she began her last year of secondary school, and she even won the Spanish basketball championship with her team "Femení Maresme". As a former secondary school student at the IES Vallès de Sabadell, she was worried about whether she would do good in engineering coming from a scientific background, but at the moment she says she is very happy, particularly because she graduated from secondary school with honours. About being a woman who studies an engineering degree, she says that "the majority of students in class are male, but that doesn't affect me, I see no problem with that ". "It is true that almost all my friends are enrolled in degrees related to the health sciences and I wasn't sure what to do, but finally, since I was very drawn to process engineering, I decided to go this way". Just like Aina, María spent her last two years of secondary school in the midst of the pandemic, and admits that it was difficult, but that "it now forms part of the past". "The pandemic, in the end, helped unite us more as study partners, because we were all going through the same, and we shared and talked a lot, and now they are my best friends", she says as she speaks proudly of her group of friends.
In addition to the faces and smiles of our four stars, the UAB's adverts also include Olga Castaño Galán, who is studying Nursing; Sofía Gómez Serrano, a student of Psychology; and Laura Pajuelo Gutiérrez, who is studying Audiovisual Communication. All seven of them, in different combinations, formats and supports, aim to send out the same message: choose the UAB as the university for you!