Over 100 lecturers and students participate in the 4th Service Learning (SL) Day at the UAB
A conference, a practical workshop and an entities' fair on Service Learning (SL) methodology were the stars of a sessionheld on Friday 5 May at the UAB with the aim of bringing this methodology closer to entities, lecturers and students. The UAB is increasingly involved in implementing the SL methodology as a highly beneficial way of teaching and learning for all agents involved.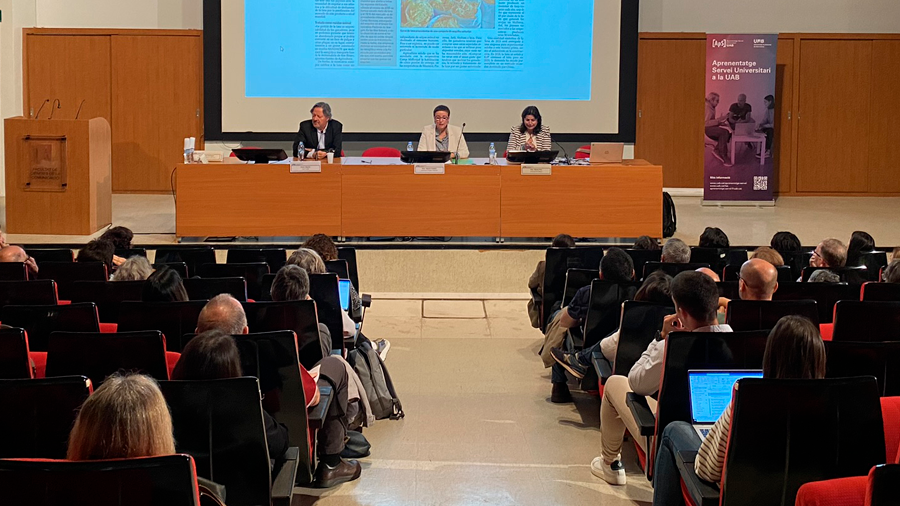 Més d'un centenar de docents i estudiants han participat a la IV Jornada ApS a la UAB, que s'ha dut a terme el divendres, 5 de maig, de 9.30 a 15 h, a la Facultat de Ciències de la Comunicació, a l'Espai Comtec i a la plaça de l'Hemeroteca General.
El degà de la Facultat, Enric Marín, juntament amb la vicerectora d'Estudis i Innovació Docent, María Valdés, han inaugurat la jornada, i tot seguit han donat pas a la conferència de Berta Paz, professora de la Universitat de les Illes Balears i membre de diferents xarxes interuniversitàries d'ApS.
Per a l'Enric Marín, "com a universitat pública que es finança amb els impostos que paguen tots els ciutadans, la UAB té un compromís cívic irrenunciable i una clara vocació d'impulsar totes aquelles polítiques que afavoreixin la justícia social; hem de ser un factor d'igualació social".
La professora Berta Paz ha explicat el cas d'un projecte ApS que es va dur a terme a la Universitat de les Illes Balears, al voltant de la llana, i ha anat desgranant pas a pas com el van desenvolupar. "Vam articular tots els recursos que teniem a l'abast perquè el projecte fos una realitat i agafés embranzida: grup de recerca, oficina d'investigació i desenvolupament, departament disseny, etc.".
A continuació s'han lliurat els premis als millors TFG del curs passat fets amb ApS. El director de la Fundació Autònoma Solidària (FAS), Jordi Prat, ha destacat que els premis han estat possibles gràcies a l'esforç de "tutors, entitats, alumnes i també a la xarxa de persones que ens han ajudat a fer la selecció".
Com a cloenda, la vicerectora María Valdés va explicar que durant el mes de gener passat, va tenir lloc un congrés d'ApS, amb seu a la UAB, que va abordar el tema de l'impacte de l'aprenentatge servei, amb la participació de 300 persones. "Va ser una trobada molt interessant i es va reflexionar sobre què cal fer per impulsar aquesta metodologia a les universitats", ha assenyalat.
A continuació, s'ha fet un taller participatiu d'ApS i Justícia Global a l'Espai Comtec (planta 2 de la Bbiblioteca de Comunicació i Hemeroteca General) a càrrec de Brenda Bär, coautora de la Guia aprenentatge servei i justícia global: justícia de gènere, econòmica i ambiental i drets humans i dret a migrar, i de Maria Monzó, de la Direcció General de Justícia Global i Cooperació Internacional de l'Ajuntament de Barcelona. Amb dinàmiques participatives, s'han donat eines als participants per incorporar la mirada de justícia global en els projectes d'aprenentatge servei.
En acabar, a les 13 h, s'ha fet una fira d'entitats, on aquestes han pogut exposar els seus projectes. La fira ha comptat també amb l'exposició de pòsters presentats al XI Congrés Nacional i V Internacional d'ApS Universitari per membres de la comunitat UAB.
Reduced inequalities
No poverty
Quality education