Opening of the exhibition "Pioneering Women of the European Union"
Ana Mar Fernández-Pasarín, professor of the Jean Monnet Chair at the UAB, inaugurated the exhibition "Pioneering Women of the European Union" in the foyer of the Faculty of Economics and Business studies on Wednesday 25 October. The exhibition pays tribute to ten exceptional women who contributed to the development of the European Union by defending the values of equality, freedom, democracy, solidarity, diversity and respect for human rights.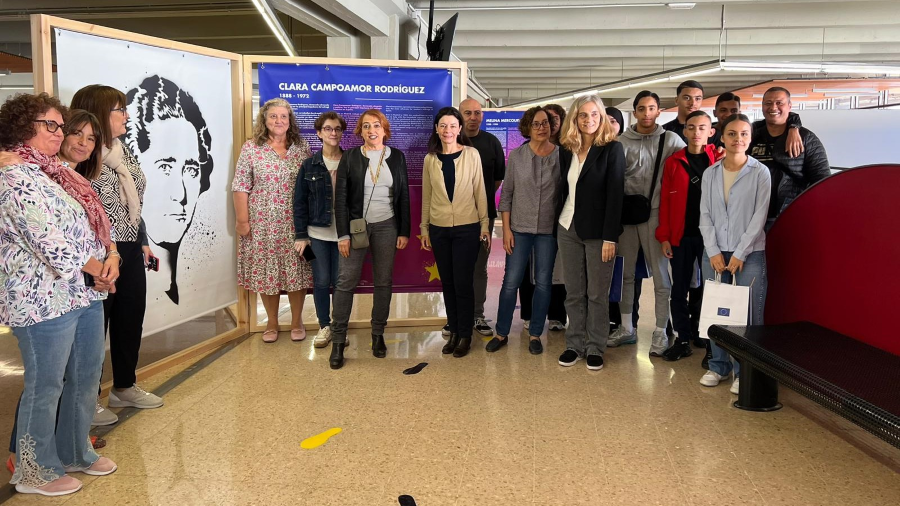 Among the ten women featured in the exhibition "Pioneering Women of the European Union" are seven women listed by the European Parliament as "EU pioneers": Anna Lindh, Marga Klompé, Melina Mercouri, Nicole Fontaine, Nilde Lotti, Simone Veil and Ursula Hirschmann, and three women after whom the European Parliament's buildings are named: Clara Campoamor Rodríguez, Sophie Schroll and Louise Weiss.
The protagonists of the exhibition are professionals in the political, cultural, scientific and social fields who fought to achieve part of today's fundamental values of the European Union. They were resistors, survivors of the Holocaust, and defenders of human rights, both in public institutions and in social and political activism. Simone Veil and Nicole Fontaine were MEPs and Presidents of the European Parliament.
In the words of Professor Ana Mar Fernández, "it is an honour for us to have this exhibition in the foyer of the Faculty, because the exhibition gives visibility to several women of different nationalities - Spanish, Swedish, French, etc. - who have been pioneers in the defence of liberal democracy, the fight against fascism and the defence of human rights in the 20th and 21st centuries". She also thanked the author of the designs, Pierre Marquès, and the European Documentation Centre for their initiative.
Marquès is an artist who works with an extensive series of paintings entitled Mon manège à moi. His works range in format from photographs, paintings, classical drawings to urban art designs. In April 2014 he presented this same project, in the form of a lecture, at the Centre Georges Pompidou in Paris.
This exhibition is organised by the European Documentation Centre, the Faculty of Political Science and Sociology and the Jean Monnet EUPOL Chair, and is an initiative of the European Parliament Office in Barcelona and the European Observatory of Memories of the Solidarity Foundation of the University of Barcelona (EUROM), an international network of institutions and organisations committed to the analysis and promotion of public policies of memory that aims to reflect on the history of the struggles for democracy and freedom in Europe and beyond, supporting a plurality of memories and contributing to a more supportive, tolerant and inclusive society.
Decent work and economic growth
Reduced inequalities
Peace, justice and strong institutions
Gender equality
Quality education