Kaunas University of Technology visits the UAB
A delegation from Kaunas University of Technology (KTU), Lithuania, visited the UAB on the 9 and 10 December to see the campus, the different centres and some of the projects we are doing at the university.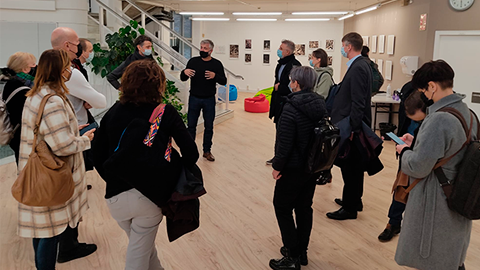 The KTU has been a member of the European Consortium for Innovative Universities (ECIU) since 2016 and has been part of the ECIU University since it was established in November 2019.
On the first day the delegation, made up of the Rector of the KTU and some of the vice-rectors and deans, met the Rector of the UAB Javier Lafuente, the vice-rector of International Relations, Màrius Martínez, and the deans and representatives of some of the faculties of the UAB. Following this first meeting the representatives of the two universities held bilateral meetings by areas of knowledge.
In the afternoon there was a presentation of the setting up at the UAB of the ECIU University project, with vice-rector Marius Martínez, the coordinator of the project Mireia Galí and three academic lecturers who are involved in the project – Sílvia Blanch, Anna Marbà and Daniel Franco, who spoke about it from an academic viewpoint. Following that there was a visit to the ECIU University office in the Plaça Cívica. The day ended with a visit to the Institute of Environmental Science and Technology (ICTA-UAB).
On the second day the delegation visited the living labs at the Faculty of Arts and Philosophy and the School of Engineering. They also saw the pilot plant of the Micro-Ecological Life Support System Alternative (MELiSSA)at the School of Engineering and the visit ended at the UAB Computer Vision Centre.
Reduced inequalities
Quality education