Four UAB students awarded at the Social Economy Awards
The Social Economy Awards 2022, organised by the Roca Galès Foundation as part of the Catalan Government's Social Economy Programme, were given to the final projects of Jordi Signes, Anna Lara, Marc Dalmau and Jordi Valls, all four students from the UAB.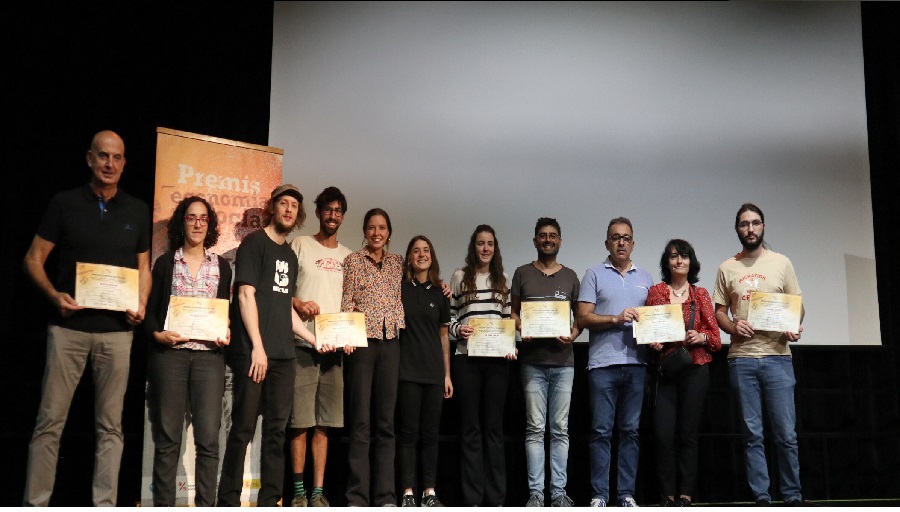 The first prize was given to the best master's dissertation, by Marc Dalmau, student of the master's degree in Social Policies and Community Actions at the UAB, for his work on alternative ownership models and the use of housing in rural areas. His research focuses on cooperative housing under the "grant of use" model and urban tenant farming on rural Catalan land based on two specific projects: Tremolina Coop and Envall Coop. The second prize went to Jordi Valls, student of the same master's degree, for his research on self-management based organisational models in the social third sector, based on the study of the case of the Associació Alba.
Pel que fa al premi al millor treball de final de postgrau, ha estat per a Anna Lara, per una recerca sobre comunitats energètiques, i el segon premi al millor treball de final de grau ha estat per a Jordi Signes, per una investigació sobre solucions per a la crisi energètica espanyola a partir de comunitats d'energia renovable.
Els Premis Economia Social 2022 han rebut 43 treballs d'11 universitats catalanes diferents. En aquesta sisena edició dels premis, el jurat ha prioritzat aquells treballs que posaven l'accent a aportar solucions des de l'economia social i solidària per a la transició ecosocial. Dos dels primers premis aborden també solucions per revertir el despoblament rural.
En l'acte de lliurament dels premis, Josep Vidal, director general d'Economia Social i Solidària, el Tercer Sector i les Cooperatives de la Generalitat de Catalunya, va destacar la generació de coneixement en matèria d'economia social a les universitats. «Els joves sou el futur, i volem que aquest futur situï primerament les persones al centre, amb un model econòmic resilient, sostenible, solidari i just».
El jurat dels premis va estar format per Lorena Torró, directora de la Confederació de Cooperatives de Catalunya; Laia Bonastra, directora de desenvolupament de persones de la cooperativa Suara i membre del Consell Rector de la Federació de Cooperatives de Treball de Catalunya; Anna Puig, de l'àrea d'administració de la cooperativa L'Esguard i membre del Consell Rector de la Federació de Cooperatives de Treball de Catalunya; Eloi Serrano, director de la Càtedra d'Economia Social del Tecnocampus; Carla Liébana, responsable de comunicació a La Coordi i a la XES; Ramon Bastida, professor del Departament d'Economia i Empresa de la UPF; Ricard Pedreira, cooperativista i professor jubilat d'Economia Aplicada a la UAB, i Quim Sicília, president de la Federació de Cooperatives de Consum de Catalunya.