The UAB publishes its "Student's Guide"
La guia de l'estudiant [The Student's Guide] is a clear and concise guide with all the information on the UAB's academic programmes and services, timetables, calendars and administrative forms students will need during the 2023/24 academic year.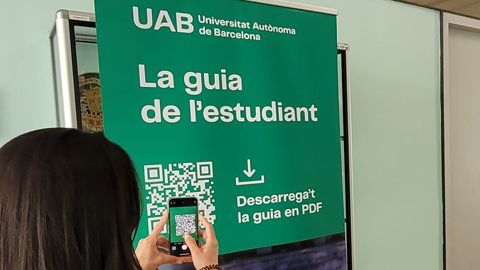 In La guia de l'estudiant, the UAB provides all essencial information for both first-time students and those who are returning to the UAB, with special emphasis on students with any specific needs.
The guide contains information on study resources, the university's Virtual Campus, e-mail addresses, job offers and curricular and external work placements, as well as everything students need to know about the services and specific areas of the UAB, such as libraries, study halls, healthcare centre, gym and sports activities centre (Servei d'Activitat Física, SAF), cafés and restaurants, language classes available (Servei de Llengües), volunteering programmes (Fundació Autònoma Solidària), etc. The guide is an extensive catalogue of services and resources, marked with the UAB's commitment to quality as established in the University's Strategic Plan.
Students can take advantage of all the services offered by the UAB and enrich their experience at University for as long as their academic training lasts.
For more information please consult the Student's Guide (available in Catalan).
Quality education