The UAB leads with degrees in the 5 top positions in the El Mundo ranking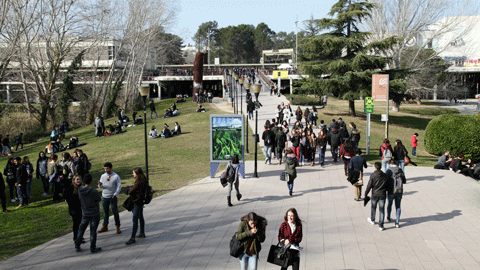 The UAB leads this year's edition of the El Mundo ranking - in charge of analysing the 50 most popular university degrees in Spain - and is the university to have the most number of degrees in the first 5 positions. A total of 24 degrees, up one from last year, which are positioned in the first five positions among Spanish universities: five in 1st place, seven in 2nd place, six in 3rd place, three in 4th place and three in 5th place.
08/05/2019
The top UAB degrees include Veterinary Medicine, Audiovisual Communication, Advertising and Public Relations, Environmental Science and Political Science and Public Management.
La UAB destaca en la classificació al rànquing sobre els 50 graus més demandats d'Espanya que elabora el diari El Mundo, i enguany es converteix en la universitat que sitúa més graus en les cinc primeres posicions.

Concretament, 24 graus de la UAB (un més que l'any passat) figuren en els cinc primers llocs de la classificació a les seves respectives categories. Cinc graus a la primera posició, set a la segona, sis a la tercera, tres a la quarta i tres en cinquè lloc.

Així, 5 estudis de la UAB han assolit la primera posició del rànking: Ciències Ambientals, Ciència Política i Gestió Pública, Comunicació Audiovisual, Publicitat i Relacions Públiques i Veterinària.

A més, s'han classificat en segon lloc 7 graus de la UAB: Traducció i Interpretació, Biologia, Educació Social, Educació Infantil, Educació Primària, Física, Química.

La 3a posició ha estat assolida per 6 graus: Biotecnologia, Estudis Anglesos, Llengua i Literatura espanyoles, Comptabilitat i Finances, Matemàtiques, Teràpia Ocupacional.

Els graus d'Economia, Periodisme i Psicologia, s'han situat en quarta posició.

I els graus d'Història, Història de l'Art i Medicina apareixen en el cinquè lloc de la seva categoria.

El Mundo analitza cinquanta graus impartits a universitats d'arreu de l'Estat (d'aquests cinquanta, la UAB n'imparteix trenta-cinc). Aquest és la 19ena edició d'aquest rànking dels graus més sol.licitats pels alumnes i les cinc millors universitats per cursar-los.

La classificació és fruit de 25 criteris de selecció (dades obtingudes a través de les pròpies universitats sobre la demanda, els recursos disponibles, els plans d'estudis i els resultats assolits, a més d'altres dades de context), l'opinió de 2.000 professors i d'altres indicadors objectius com ara els rànquings internacionals o els informes de l'Agència Nacional d'Avaluació de la Qualitat i Acreditació (ANECA). Cadascun d'aquests aspectes pesa, respectivament, un 50%, un 40% i un 10% al resultat final de cada grau.

Després de la UAB, la universitat que compta amb més graus entre les 5 primeres posicions és la Universidad Complutense de Madrid, amb 23 titulacions en el rànking, i a continuació, la Universitat de Barcelona, amb 17 estudis dins les 5 primeres posicions.


More information can be found at Ranking de Universidades Españolas (El Mundo)