If they say ECIU, should you be offended?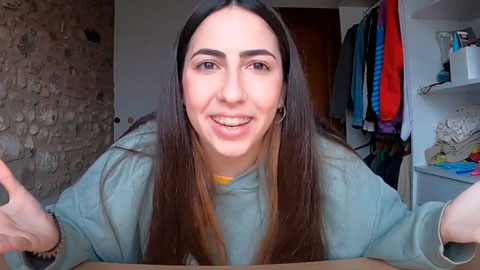 Now, if you are a member of the UAB, you are also a member of the ECIU. But... what is the ECIU? Jana Vives will tell you all about it in this short video series on YouTube.
08/04/2021
Don't miss the series' first episode, already available on our YouTube channel!
No matter whether you've never heard of ECIU before or you have, but are not sure what it is exactly, Jana Vives is here on the UAB's YouTube channel to tell you all about it. You can now watch the first video!
In this first episode, Jana talks a walk around the UAB campus to ask several students if they know what ECIU stands for. Her answers are summed up in an exciting video lasting under five minutes. Plus, she even talked to two of the UAB's top experts in this subject: Màrius Martínez, Vice Rector for International Relations and Mireia Galí, ECIU technical coordinator at the UAB. With the help of our two experts and Jana, you'll discover exactly what ECIU stands for and finally solve the mystery that is stressing out so many of our UAB community members and future UABers.
Jana Vives currently studies Advertising and Public Relations at the Universitat Autònoma de Barcelona and was chosen as the finalist of our YouTuber challenge, which includes internships at the UAB Units of Promotion, Audiovisuals and Multimedia, and the ECIU. In fact, Jana is not alone: she is competing with three other YouTubers to attract the attention of audiences this year with a variety of audiovisual proposals: the Campus Visits with Sandra Lleida and Anna Ventura and the UABecedari with Bea Ruano.
If reading about the ECIU without knowing exactly what it is yet has caught your curiosity and you want to know more, be sure to watch Jana's video on YouTube, and sign up for more videos!
Més informació
YouTube video: what is ECIU explained by Jana Vives