ECIU University explained in 12 dots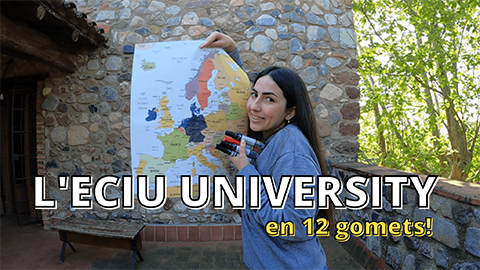 Jana Vives launches a new video to explain the ECIU University with the help of a map and 12 pins.
11/05/2021
New video on the UAB's YouTube channel on the ECIU, in which Jana Vives tells us all about the ECIU with a map and 12 pins.
Have you seen the first video about the ECIU, but are still a bit confused about what exactly it represents? Jana Vives will tell you lots more about the ECIU with the help of a map and 12 pins.
Aalborg University in Denmark, Dublin City University in Ireland, Hamburg University of Technology in Germany, Kaunas University of Technology in Lithuania, the Institut National des Sciences Appliquées in France, Linköping University in Sweden, Tampere University in Finland, Universidade de Aveiro in Portugal, University of Stavanger in Norway, Università degli Studi di Trento in Italy and the University of Twente in the Netherlands. These are the UAB's partners and together they make up the ECIU University. Jana accepted the challenge of placing each university on the map in this new video.
Jana Vives studies Advertising and Public Relations at the Universitat Autònoma de Barcelona and won the audition held to find the perfect YouTuber who could explain this concept to fellow and future students. As the winner, she has also been awarded an internship in the UAB's Promotion and Audiovisuals and Multimedia Area, and in the UAB's ECIU Department. In fact, Jana is not alone: she is competing for audience with three other YouTubers chosen to carry out two more audiovisual projects this year at the UAB: the Campus Visits with Sandra Lleida and Anna Ventura and the UABecedari wtih Bea Ruano.
Want to stay connected and be informed of the new contents uploaded onto the UAB's YouTube channel? Subscribe here!
More information:
YouTube video: the ECIU University in 12 pins
YouTube video: the ECIU explained by Jana Vives
ECIU UAB