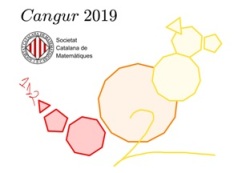 In late 1995, the Catalan Mathematics Society organised the first Kangaroo Contest, coordinated by Le Kangourou Sans Frontières. This international organisation, founded by a group of Australian teachers (hence the name of the activity!), had been 'imported' to Europe a few years earlier.
The Department has hosted the contest since 1999 and has offered preparatory courses for the past few years.
Coordinator: Dr. Josep Gascón.

For more information about the preparatory sessions in our Faculty, see here (in catalan).
Related links