December 1:World AIDS Day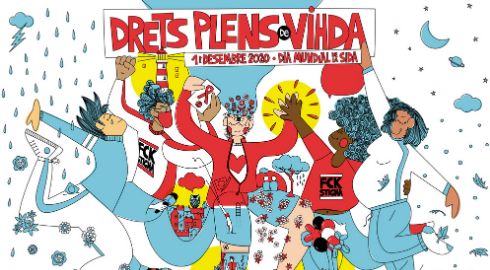 This December 1, on World AIDS Day, FAS, as a member entity of the December 1 Committee, adheres to the demands that bear the motto "Volem drets de Vihda".
01/12/2020
In 2020, COVID-19 has brought out new situations of stigma and discrimination against people with HIV. In addition, the pandemic has forced community health care services to close and has made it difficult to access testing and management of sexually transmitted infections and HIV.
Under the slogan "We Want Human Rights", the awareness campaign claims the importance of community intervention, as well as the promotion of diversities, universal access to treatment and a response to the needs of people with HIV and of their aging processes. They want to face stigma and discrimination, and they especially want to guarantee the quality of life and make effective the rights that belong to them.
On this December 1, the FAS Health program will take the itinerant Xiringu through the UAB with games and information on HIV and AIDS, and also, through its Telegram channel, it will provide resources on the subject for all subscribers.
HIV tests at the UAB
The FAS, on November 24, 25 and 26, organized a space in the Resource Center for Collectives to take rapid HIV tests in a safe, free and totally anonymous way. This allowed the university community and anyone interested, to get tested and find out about the infection from specialist professionals.