The UAB to host a solidary lunch against food waste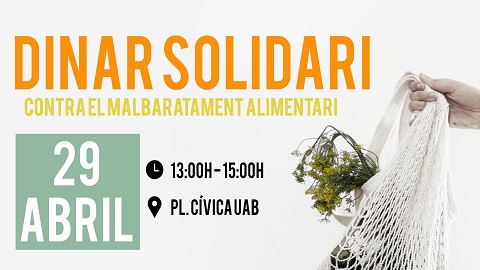 The UAB will be celebrating spring with Primavera a la UAB on 29 April in Plaça Cívica. This celebration will also offer a solidary lunch against food waste.

23/04/2019
The UAB will celebrate Spring on 29 April with plenty of activities, such as a solidary lunch against food waste at the Plaça Cívica, from 12 noon to 4 p.m.

The goal of this lunch is to make the most out of those products that aren't eaten as well as to donate all the food gathered to the Banc dels Aliments. From today up until 29 April –as well as on 29 April itself–, members of the UAB community are invited to bring non-perishable foods (rice, beans, pasta, canned foods, etc.) to the Centre de Recursos per a Col·lectius de la UAB from 10 a.m. to 6 p.m.

Students who contribute will get a ticket that they can exchange for a menu, carefully cooked by the chefs of Hotel Campus de la UAB with leftovers from Mercavallès, in the lunch against food waste. Those who didn't bring any food beforehand can also contribute with a symbolic donation in situ, which will help when buying food for social entities.

This activity was organised by Oficina de Medi Ambient (OMA), Fundació Autònoma Solidària (FAS), Assemblea Ecologista de la UAB and Unitat de Dinamització Comunitària.

Previous edition

Last year, within the framework of Sant Jordi's day in UAB, students from the UAB School for Tourism & Hotel Management prepared a menu for the solidary lunch against food waste. Around 100 people took part in such lunch, with 93 kg of dry food and 37 litres of milk and oil collected.

Come have lunch with us on the 29th!

You can check the Primavera a la UAB's programme by clicking here.