Health and Sustainability Week at the UAB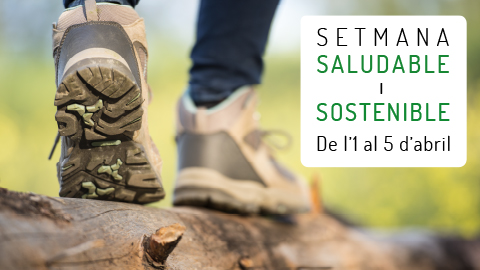 From 1 to 5 April, the UAB will be holding its 10th Health and Sustainability Week, with workshops, conferences, walks, sports, etc. Over 40 activities have been organised for the UAB community with the aim of promoting healthy lifestyles (all are free, but you must
register to participate
). The full programme can be consulted at the
SiS Campus blog
.
07/03/2019
The 10th Health and Sustainability Week offers more than 40 activities aimed at members of the UAB community (students, PAS and PDI) with the objective of promoting healthy lifestyle habits.
The UAB Health and Sustainability Week will take place from 1 to 5 April. Acquiring healthy and sustainable lifestyle habits is the main axis of the activities programmed during Health and Sustainability Week, addressed to students, administration staff and lecturers. All activities are free, but you must register to participate.

On Monday 1 April, the official inauguration of the Health and Sustainability Week will take place at 12:15 p.m. with a speech by Carles Gispert, Vice Rector for Economy and Campus. Following,
at 12:30 p.m., the inaugural conference on digital society entitled "Societat digital: saludable i sostenible?" will be offered by Genís Roca, UAB alumni and expert in the internet.


Workshops and Conferences
On 1 April at 1 p.m., a workshop on health and well-being will be led by Lydia Giménez-Llort, lecturer in psychiatry and researcher at the Institute of Neuroscience. A workshop on cooking and nature will also take place on Monday 1 April at 4 p.m. with members of the CreatiBio (Association for Dissemination on Biodiversity) and Puré de Palabras (culinary blog).

There will also be a rubbish collection (1 April at 1 p.m.), a conference on learning to interpret food labels (1 April at 1:30 p.m.) and a conference on how to manage age within the occupational risk sector (1 April 12 noon), and many more activities.

On Monday 1 April at 1 p.m. at the Plaça Cívica, the Fundació Autònoma Solidària (FAS)will be organising an activity to collect rubbish around campus. On the following date at 1 p.m. the Faculty of Education bar will host a healthy food and dietary justice activity also organised by FAS.


Sports and Other Healthy Activities
On Monday 1 April there will be a Nordic walking workshop which will start at the Plaça del Coneixement. On 4 April there will be a healthy walk organised, which this year will pass through the Can Domènech valley and show participants the different parts of the Bellaterra campus along the 6 kilometre walk.

On 4 April, the Xiringu de la FAS stand, an information, assessment and discussion point for health subjects, will be participating in the association's fair. Students can visit the fair from 1 to 3 p.m. and also receive information ondifferent volunteering programmes organised by the Fundació Autònoma Solidària.



How to perform cardiac massages and pulmonary resuscitation techniques (CPR) will be taught on Thursday from 11 a.m. to 2 p.m. at the Healthcare Service stand, where members will also be able to get their eyes tested, take a tonometry test, an Ishihara colour test and receive nutrition tips for a balanced diet (Thursday 10:30 a.m. to 3 p.m. at the Plaça del Coneixement).

On 4 April, from 10 a.m. to 2:30 p.m., the Blood Bank Bus will be located at the Plaça del Coneixement for all those interested in donating blood (in front of the Humanities Library).

On 7 and 8 April, the Plaça Cívica will also have stands offering quick HIV and syphilis tests thanks to the FAS health programme and Actua Vallès. Attention hours will be from 10 a.m. to 5 p.m.

On Tuesday 9 April a Sabadell walk has been organised, as well as a Nordic walking workshop on 10 April and a sports day on 11 April which will include volleyball, basketball and badminton matches.

Registration
Registrations for the activities can be done through the online form. The activities can be validated as training hours for administration and services staff members. They can also be validated by students for ECTS credits. The order of registration will be the criteria used in all activities with a limited number of places.

The UAB thus consolidates the week-long celebrations organised with the aim of promoting activities which favour acquiring healthy and sustainable habits amongst the university community.
You can share your photos of the Health and Sustainability Week on social media through the hashtag #SaludableiSostenibleUAB.
More information at:
- Programme activities
- A Healthy and Sustainable Campus Blog
- Activities application form