Give support to Global Justice in your next enrolment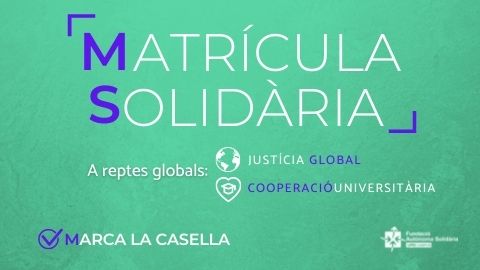 The UAB's solidarity campaign begins with an initiative that will allow UAB students to make a donation to Global Justice when enrolling.
05/07/2021
To build a supportive and socially committed university, each academic year the Fundació Autònoma Solidària (FAS) will be promoting its solidarity enrolment campaign, entitled "Matrícula Solidària. Marca per a la justícia global" aimed at students enrolling in the UAB. Students are asked to contribute with their grain of sand and donate 15 euros when they enrol.
Contributions from students, alongside donations made by lecturers and administrative and services staff, and contributions from the UAB make up the UAB Solidarity Fund. The money raised helps to foster cooperational and educational projects for a global justice which are led by members of the university community. The "Matrícula solidària" campaign's motto is "A reptes globals: justícia global i cooperació universitària" [Global Challenges: global justice and university cooperation]. The Global Justice puts emphasis on the deep causes of injustices between the global North and South, and focuses on the effects and responsibility of rich countries regarding the violation of rights in poorer countries.
Understanding this and other paradigms of the cooperation agenda, the University and its community are key in creating the conditions to make a more just, diverse and peaceful world possible. And with this objective, the UAB works with awareness-raising campaigns through the solidarity enrolment and other initiatives, and the promotion of cooperation and solidarity actions, to offer Global Justice the knowledge and potential of the UAB community.
If you are a student and want to collaborate with a donation, you need only tick the box on your application form when enrolling. Your donation of 15 euros will go towards cooperation initiatives in countries of the Global South in areas such as education, health, gender justice, and the environment.
This information is related to the following SDG