"Campus Activities" return to the UAB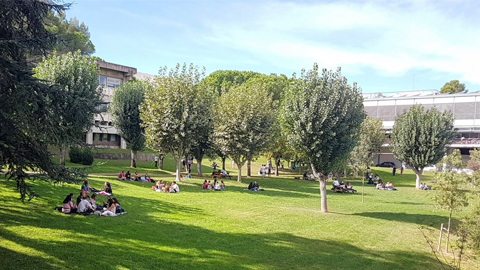 Monday 14 October marks the start of the "Campus Activities", an initiative which began last year to foster the organisation and attendance of students in a series of activities which will take place throughout the academic year - all are held from 1 to 3 p.m. - during which academic activities will not be held.
07/10/2019
Thanks to a proposal by the UAB governing team and with the consensus of of all faculties, the Governing Council set aside eight days, spread out through two academic semesters - reserved for campus activities from 1 p.m. to 3 p.m. These activities can be organised by faculties, students, UAB services, etc.
The days on which the activities will be held are Monday 14 October; Thursday 7 November, the UAB's annual Festa Major; Tuesday 10 December; Wednesday 15 January; Tuesday 18 February; Tuesday 18 March; Thursday, 16 April; and Friday, 15 May 2020.
The objective is to facilitate attendance to non-academic activities and help students make use of the concentration of knowledge existing at the UAB, especially after eliminating the old campus subjects with the introduction of the new Bologna Plan.
This initiative aims to foster the organisation of activities and also strengthen ties among all UAB students.
Monday, 14 October
On Monday 14 October, the
Faculty of Translation and Interpreting
organises a conference entitled
Asia and Climate Action: Putting the dragon back in the box?
by Christopher Dent, lecturer at the Edge Hill University, UK. UAB professor David Saurí will present the conference and moderate the debate which will take place in Aula 4 of the Faculty of Translation and Interpreting at 1 p.m. The conference is organised by the faculty in coordination with the research group GREGAL of the
Department of Translation and Interpreting and East Asian Studies
and the
Spanish Association of East Asian Studies
.
Also on Monday 14 October at 1 p.m., the Assembly Hall of the Germans Trias i Pujol Teaching Unit in Badalona, will offer a conference entitled
"Let food be your medicine and medicine be your food(Hippocrates)",
which will be offered by
María Laura Galizzi,
specialist in medical clinical and gastroenterology at the Universidad Nacional de Rosario, Argentina.