Volunteer at the UAB 2019 Race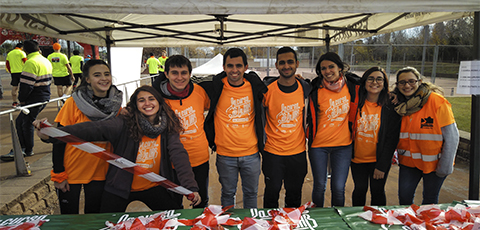 El 15 de desembre es durà a terme la Cursa de la UAB en suport a La Marató de TV3. Els fons es destinaran a la investigació de malalties minoritàries. Col·labora-hi fent un voluntariat en les tasques d'organització i de logística.
25/10/2019
The Autonomous University of Barcelona, ​​in collaboration with the Cerdanyola City Council, is organizing the eighth edition of the UAB Solidarity Race in support of TV3's La Marató on 15 December. Over the previous editions of this race, 96,000 euros have been raised for TV3's La Marató. Last year, 18,500 euros were raised, thanks to the participation of approximately 2000 people, with 88 volunteers. In this edition, donations will go to research into minority diseases.
The novelty of this year will be that for the first time, the race will pass through the streets of the center of Cerdanyola del Vallès. There will be three races and a walk from 10.30 am. They will consist of a reduced mobility race of 470 meters; an 11-kilometer race, a 6.5-kilometer race; and a walk of the same kilometers, which will go around the Synchrotron, and will also pass the Applus + technology center, the main sponsor of the race.
It is estimated that between 300,000 and 400,000 people in Catalonia are affected by minority diseases. The degree of involvement is diverse, but they tend to be severe, chronic, progressive and disabled. 80% of these are of genetic origin and all have in common the difficulty in diagnosis, the lack, in many cases, of efficient treatments and a high social and family impact.
Now, what will be my role if I participate in volunteering?
The volunteering of the Race is coordinated through the Fundació Autònoma Solidària. It consists of support for organizational and logistical tasks: handing out bibs and T-shirts to runners; prepare the paddock, the circuit and the Entity Fair; or collaborate in the recovery zone. There are several strips of participation, both the previous Saturday and the Sunday itself. SIGN UP !!!!