UAB presents a new projects to promote social entrepreneurship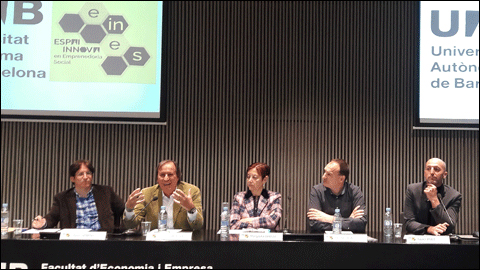 A new platform created by UAB will encourage innovation and social entrepreneurship in collaboration with institutions and entities. The Espai INnova en Emprenedoria Social (EINES) was presented in an institutional act in the Faculty of Economics and Business.

01/04/2019
UAB presented L'Espai INnova en Emprenedoria Social (EINES) in an act on 27 March in the Faculty of Economics and Business. This new platform will act in three fields: research and transference, training and advice. The presentation act counted with the presence of city councils, administrations, social agents and entities within UAB, as well as Margarita Arboix, UAB's rector; Gabriel Masfurroll, president of the Board of Trustees; Héctor Sala, dean of the faculty and David Urbano, vice-dean for Entrepeneurship and Xavier Pont, co-founder of the foundation Ship2B.

The goal of this new space is to encourage innovation and social entrepreneurship by bringing UAB's synergies closer to their social and productive environment. For this, one of the three courses of action will be research and transference strongly linked to the territory with a big social impact. Regarding training, a new cross-wise masters' degree will be implemented in order to generate a profile of qualified people in the field of social innovation. Advice will be approached in projects on social transformation that can channel ideas generated in university towards society.

The project also expects the creation of a teaching assistant in social entrepreneurship (that could lead to the publication of a yearbook or a prize awards to projects within this field) and a curricular internship engine in the sense of a postgraduate degree linked to social transformation both in public administration and non-profit in companies and entities.