Tick solidarity box in your UAB registration form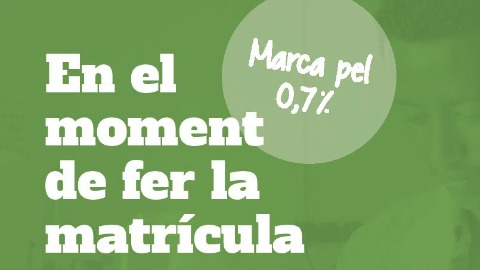 The Solidarity Fund campaign is launched to encourage UAB students to tick the Autonomous Solidarity Foundation box in their UAB registration form and make a €15 donation. The Solidarity Fund sponsors several cooperation and education projects promoted by members of the university community.
23/07/2020
Tick the box for solidarity before submitting your UAB registration for next year and you will make a €15 donation to cooperation and development projects in underprivileged countries as well as other actions related to the promotion of education in the university campus. For more than 25 years now, the UAB Solidarity Fund has been collecting student and university staff donations which are later allocated to several university cooperation projects promoted by UAB lecturers and students to kick start development.
In keeping with the 0.7% campaign created by the UAB in 1994 which promoted cooperation and solidarity in underprivileged countries, the University Senate decided to take part in the initiative by creating budgetary provision for cooperative development actions. The Solidarity Fund is also made up of voluntary contributions from the administrative and service staff and teaching and research staff.
The Autonomous Solidarity Foundation (FAS) operates the Solidarity Fund in the Cooperation and EpD area. Every year, the FAS opens calls for administrative and service staff, and Master's and PhD students to submit their proposals, some of which will be granted with the funds collected from the voluntary donations.
If you are a UAB student, we encourage you to donate the 0.7% of the cost of your annual university fees by ticking the solidarity box and donating €15 to the UAB Solidarity Fund.