The SDGs in the Faculty of Veterinary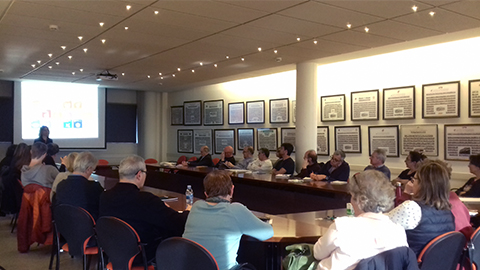 The Sustainable Development Goals (SDGs) reach the Faculty of Veterinary Medicine with the support of the FAS through a Teaching Innovation Project and an Education for Development Work Group.
23/06/2021
The Faculty of Veterinary, with the support of the Fundació Autònoma Solidària, has created a work group for Education for the Development of the Faculty with the purpose of promoting the knowledge and academic treatment of the Sustainable Development Goals (SDGs). This group relied on the participation of professors and students that carried out different formative activities.
What are the SDGs?
The SDGs are 17 Sustainable Development Goals- universal, ambitious and inclusive- that guide the implementation of the 2030 UN Agenda for Sustainable Development, approved the 25th September 2015. Topics range from poverty, hunger, peace, health to education, inequality, inclusion, and more.
The UAB, together with other Catalan public universities, committed in 2017 to working on achieving these goals through training, scientific research and innovation.
The SDGs in the Faculty of Veterinary Medicine
With the aim of promoting the knowledge of the SDGs in the Faculty Degrees, the UAB Teaching Innovation Project "Incorporation of the SDGs in teaching in the Faculty of Veterinary Medicine" was created. And within the framework of this project, during the academic years 2019-2020 and 2020-21, general and specific concepts on the SDGs have been introduced in the teaching of 7 subjects of the Degree in Veterinary Medicine and 3 subjects of the Degree in Science and Technology of Food. In the future, however, the intention is for this training to reach all subjects of both degrees.
In addition, a total of 12 Final Degree Projects on Sustainable Development and Global Justice have been completed. Of note is the TFG carried out by Marta Bayona, entitled "Productive requirements to achieve self-sufficiency in meat in Catalonia" which in 2020 received the Prize for Final Degree Projects on sustainable development and global justice at the UAB and that of Xènia Sala Pareta called "Learning and service project: Comparative Anatomy Workshops in mammals for high school students" which has been awarded this 2021 with the Best TFG Award in ApS Mention.
Finally, before the pandemic, the seminar "Towards the achievement of the Sustainable Development Goals in Catalonia: the Government Plan, the National Agreement and the 2030 Alliance" was also held, given by Meritxell Rota, an analyst for the Advisory Council for Sustainable Development in Catalonia.