CV Director of the Department
Dr. Joaquín Beltrán Antolín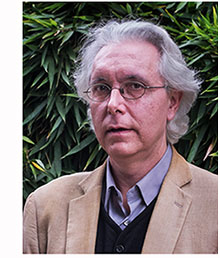 Associate Professor of East Asian Studies.
Director of the Department of Translation and Interpreting and East Asian Studies.
Teaching
East Asian Politics (Degree in East Asian Studies)
East Asian Migration and Diasporas (Degree in East Asian Studies)
Geopolitics, Economics and Environment (MA in Global East Asian Studies)
Culture of the European Union and China (Master's Degree in European Union-China: Culture and Economy)
Doctoral Programme in Translation and Intercultural Studies
Research
Social anthropologist specialising in Chinese Studies. Expert in migration and Chinese diaspora, and in various social, political, cultural, and economic fields in China.
He has published numerous international works and supervised 14 doctoral theses.
He has directed and co-directed 5 research projects of the National Plan, and other projects of different administrations.
Researcher in charge of the SGR group InterAsia and the new international system: society, politics and culture since 2005.
Selection of recent publications
How many Chinese are in Europe? Demographic (de)construction. In: Methe Thuno et al. eds, Handbook of Chinese in Europe. Brill, 2023.
Chinese Contributions to Spanish Culture: An Overview. In: Luisa Elena Delgado and Eduardo Ledesma, eds, The Routledge Companion to Twentieth- and Twenty-first Century Spain: Ideas, Practices, Imaginings. Routledge, 2023 (with Amelia Sáiz López).
East Asia. Transnationalism, society and culture. Edicions Bellaterra, Barcelona, 2021
Els xinesos a Catalunya (2001) revisited. IDEES. Revista de Temes contemporanis, 52, 2021 (with Amelia Sáiz López)
Housing and mobility. Residential behaviour of Chinese migration in Spain. Scripta Nova. Revista Electrónica de Geografía y Ciencias Sociales, 24 (629), 2020 (with Wanchu Zhong)
Journey to the centre. The 19th Congress of the Chinese Communist Party. Edicions Bellaterra, Barcelona, 2017
University Management
Director of the Department since February 2018
Coordinator of the Bachelor's Degree in East Asian Studies (2008-2016)
Other
Director of the Contemporary China Series of Edicions Bellaterra since 1997
Director of InterAsia Papers of CERAO-UAB since 2008
Director of the Confucius Institute Foundation of Barcelona (2012-2013)
Member of the Board of the International Society for the Study of Chinese Overseas (ISSCO), since 2019, and member of the World Council of Sinologists (Beijing Language and Culture University) since 2022, among others.
He has extensive transfer experience and collaborates with various think tanks specializing in China.