Social and cultural transfer
Learning from Migrants and Refugees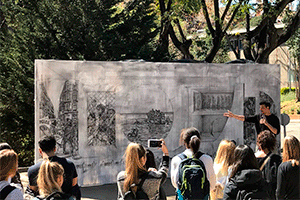 Casa Convalescència hosted an artistic action linked to the Work Sessions "Learning from Migrants and Refugees". The artist Sebastien Waknine created a 7 x 3 meter mural, inspired by the chronicles that various refugees made during the sessions.
The students and users of the venue were able to observe his progress day by day, talk with the artist and even leave their fingerprints.
Self-guided circuit around Casa Convalescència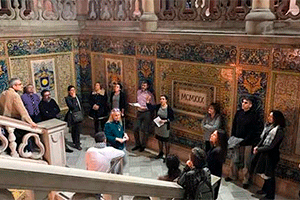 The route aims to make the history and architecture of the building known, through 5 sheets enriched with a QR code on different emblematic elements.
The objective of this cultural action is to value the spaces of this unique building, integrated into the Sant Pau modernist complex, declared a World Heritage Site in 1997, and open them both to UAB users and to the rest of the citizenry.