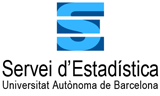 The UAB Statistics Service was created in September 2000 as an S2-type scientific/technological service.
Its main objectives are to coordinate and promote statistics-related activities carried out at the UAB and to offer consulting services to the university's research groups. It also provides consulting services to other universities, public and private institutions, and companies in a variety of sectors. The Statistics Service also organises and promotes training, refresher and specialisation courses in statistics.
The Statistics Service was also conceived as a meeting point for researchers from various areas and disciplines, as well as the precursor to an institute of statistics at the UAB.
Coordinator: Joan del Castillo
Related links