The UAB celebrates a new edition of the "Four Minute Thesis" competition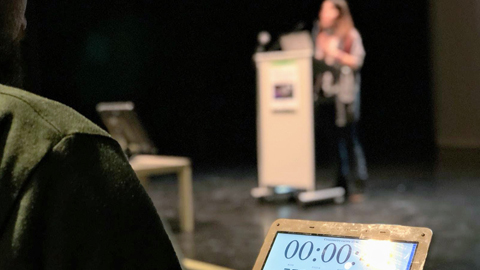 The competition called for PhD students to explain their thesis by explaining their research topic in a maximum of four minutes. On 4 June the selected candidates will be able to give an oral presentation of their thesis, followed by an awards ceremony.
02/06/2020
The competition will begin on 4 June at 10 a.m. at the UAB YouTube. The event will be streamed live and will consist in ten PhD students who will have a maximum of four minutes to defend their thesis. The presentations will be given in easily comprehended language and is aimed at all publics.

A committee of researchers and members of the Permanent Board of the Doctoral School selected twelve proposals to be presented.

At the end of the event, a jury will award first prize (800 euros) and second prize (500 euros) to the top two thesis, and the public will be asked to vote for the one they liked best, who will be awarded 200 euros. The awards ceremony can be followed live by Teams from 12 noon.
The finalist will represent the UAB in the competition called by the Catalan Foundation for Research and Innovation which will be streamed live on the web on 25 June.

More information