The "Thesis in 4 minutes" competition to be held on 18 May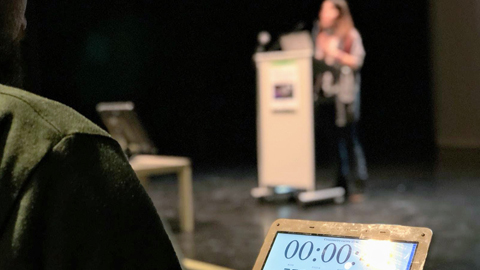 The challenge consists in having PhD students defend their PhD thesis by explaining their research in a maximum of 4 minutes. On 18 May, twelve finalists will be able to defend their thesis with an oral presentation, with prizes for the best three.
30/04/2021
On 18 May, at 11:30 a.m., twelve finalists will participate in the "Thesis in 4 Minutes" competition, which will be streamed live on the UAB's YouTube channel.
A committee of researchers and members of the Permanent Board of the Doctoral School previously selected twelve finalists. PhD students will explain their research with an oral presentation lasting a maximum of 4 minutes, with easy to understand language and comprehensible to the general public. The presentations will take place in the conference hall of the Rectorat building, with limited seating due to the current health situation and all safety measure guaranteed.
At the end of the event, the jury will award a first prize (800 euros) and a second prize (500 euros) to the two best presentations. A third prize will be awarded to the best presentation voted by those attending virtually on YouTube, consisting of a cash prize of 200 euros, and is compatible with the first and second prize awarded by the jury.
The winner of the competition will go on to represent the UAB at the competition organised by the Catalan Research and Innovation Foundation (FCRi), which will be transmitted live on the FCRi's website.

More information