Last activities of the UAB Health and Sustainability Week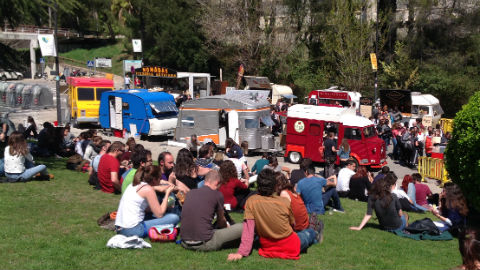 The 10th Health and Sustainability Week includes over 40 activities addressed to the UAB community with the aim of encouraging a healthier lifestyle. From 8 to 2 April the last activities will be taking place, such as the walks at the Sabadell campus and
food-trucks
. The full programme can be consulted at the
SiS Campus blog.
09/04/2019
The 10th Health and Sustainability Week offers more than 40 activities aimed at members of the UAB community (students, PAS and PDI) with the objective of promoting healthy lifestyle habits.
From 8 to 12, the last activities of the Health and Sustainability Week addressed to the university community will be taking place. Acquiring healthy and sustainable lifestyle habits is the main axis of the activities programmed during Health and Sustainability Week, addressed to students, administration staff and lecturers. All activities are free, but you must register to participate.


On Tuesday participants will be able to take a walk organised by the Sabadell campus. The walk will commence at the main entrance of the Sabadell campus (Building S). The 3.7 walk will visit the Sant Oleguer caves, the ice cave and the Ripoll river park. The walk will last approximately one hour.

On Thursday 11 April, the Sabadell campus will celebrate a sports day with volleyball, 2X2 basketball and badminton matches.

That same day, there will be food trucks at the northern axis of the Bellaterra campus from 12 noon to 7 p.m., with music performances from the group "Màrius Alfambra", starting at 1:30 p.m.

Finally, on 25 April, all those interested will be able to donate blood at the Vila Universitària.

Others Activities of the Health and Sustainability Week

Participants from now until 30 April can now answer the survey on mobility habits, aimed at members of the Bellaterra campus (PAS, PDI, students). Participants will be eligible to win a €300 gift card.

Until 12 April, the university community (students, PAS and PDI) can participate in the Mou-te per la UAB challenge, organised by the Unit of Mobility Organisation and Management (UPGM). The objective of the challenge is to foster sustainable trips to and from the UAB as well as within the campus (on foot, by bike, scooter, public transport, carsharing, etc.).


Registration
Registrations for the activities can be done through the online form. The activities can be validated as training hours for administration and services staff members. They can also be validated by students for ECTS credits. The order of registration will be the criteria used in all activities with a limited number of places.

The UAB thus consolidates the week-long celebrations organised with the aim of promoting activities which favour acquiring healthy and sustainable habits amongst the university community.
You can share your photos of the Health and Sustainability Week on social media through the hashtag #SaludableiSostenibleUAB.
More information at:
- Programme activities
- A Healthy and Sustainable Campus Blog
- Activities application form