Health screenings continue for all members of the university community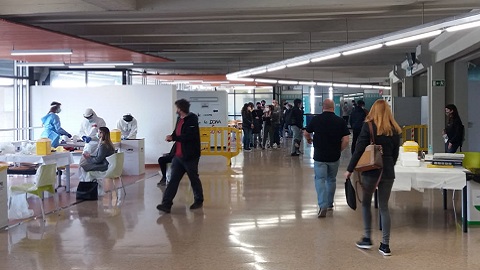 All UAB students, lecturers and administrative workers can take a test to see if they are currently infected with Covid-19 or have already had it. Screenings will take place at the Bellaterra campus from 8 to 15 April, and on the Sabadell campus on 15 April.
07/04/2021
From 8 to 15 April, the Government of Catalonia's Ministry for Health invites all members of the UAB to participate in a health screening to detect asymptomatic cases and those who have already had Covid-19.
The screenings will take place from 9:30 a.m. to 7 p.m. in two different areas of the campus: one at the Plaça Cívica, in front of the pharmacy, and at an itinerant point located at the entrance to the Ground Floor (Planta 0/Sala de juntes) of Building C (Sciences and Biosciences) on 8 and 9 April (on Friday 9 April screenings will be done from 9:30 a.m. to 2 p.m.); at the entrance of the Faculty of Arts & Humanities on 12 and 13 April; at the School of Engineering on 14 April and at the Faculty of Medicine on 15 April. In addition, on 15 April members of the Sabadell campus (Carrer Emprius, 2) will be able to take the tests from 9 a.m. to 4 p.m. Members of the university community will be able to sign up for a screening at any of the different points and on any of the days available.
Two different tests will be available: a PCR through a nasal self swab sample and a rapid serology screening with a capillary blood sample. Each test is voluntary and each person can decide whether to take both tests, or only one. All UAB students, lecturers and administrative workers, as well as all members of businesses and research centres located on campus, who have not received a vaccine and are asymptomatic can take the tests. In order to participate in these screenings, it is necessary to bring along your health card or CatSalut card, or your ID or passport. To avoid crowds, once the samples are collected the results will be posted in each person's La Meva Salut account.
This initiative forms part of the general screenings conducted by the Government of Catalonia at all university campuses. The objective is to detect any asymptomatic cases and thus break transmission chains, and to monitor the evolution of transmissions among specific population groups.
This information is related to the following SDG
Good health and well-being