"Myth and History: Shi Xing during the Imjin War and the Construction of His Myth by Choson Korea" (in Chinese) Sun Weiguo (Professor, Nankai University, Tianjin)
"Myth and History: Shi Xing during the Imjin War and the Construction of His Myth by Choson Korea" (in Chinese) Sun Weiguo (Professor, Nankai University, Tianjin)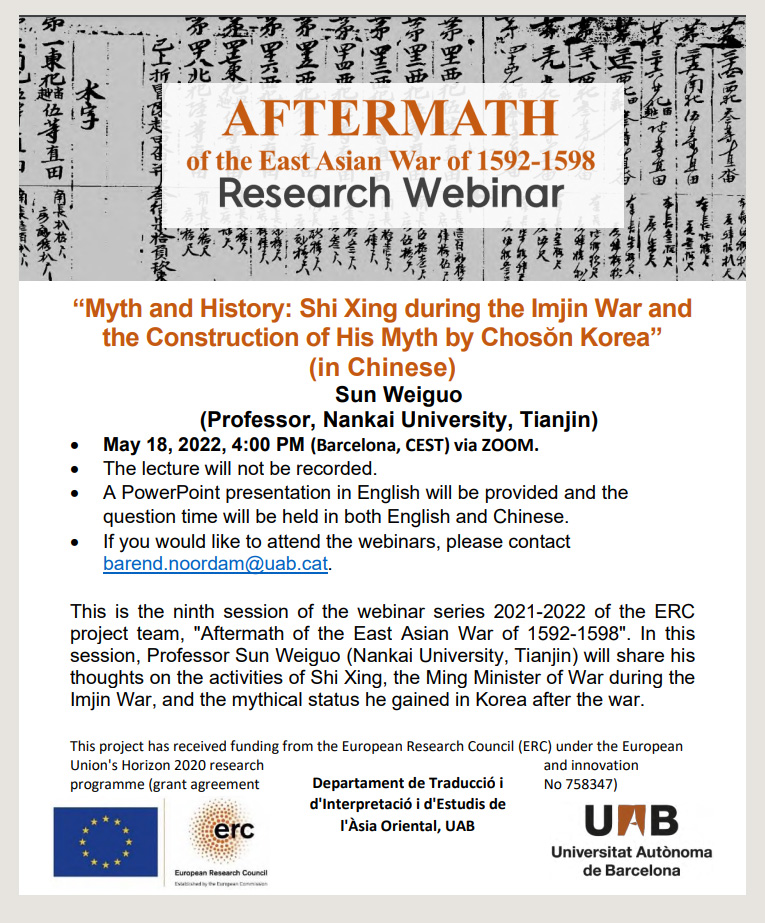 "Myth and History: Shi Xing during the Imjin War and the Construction of His Myth by Choson Korea" (in Chinese) Sun Weiguo (Professor, Nankai University, Tianjin)
May 18, 2022, 4:00 PM (Barcelona, CEST) via ZOOM.
The lecture will not be recorded.
A PowerPoint presentation in English will be provided and the question time will be held in both English and Chinese.
If you would like to attend the webinars, please contact barend.noordam@uab.cat.
In this session, Professor Sun Weiguo (Nankai University, Tianjin) will share his thoughts on the activities of Shi Xing, the Ming Minister of War during the Imjin War, and the mythical status he gained in Korea after the war.
This project has received funding from the European Research Council (ERC) under the European Union's Horizon 2020 research and innovation programme (grant agreement Departament de Traducció i No 758347)