"The ECIU University is no longer a project; it is now a programme"
UAB Vice Rector for International Relations and current ECIU President Màrius Martínez presented the new phase of the ECIU University now commencing after receiving green light from the European Commission in July 2022.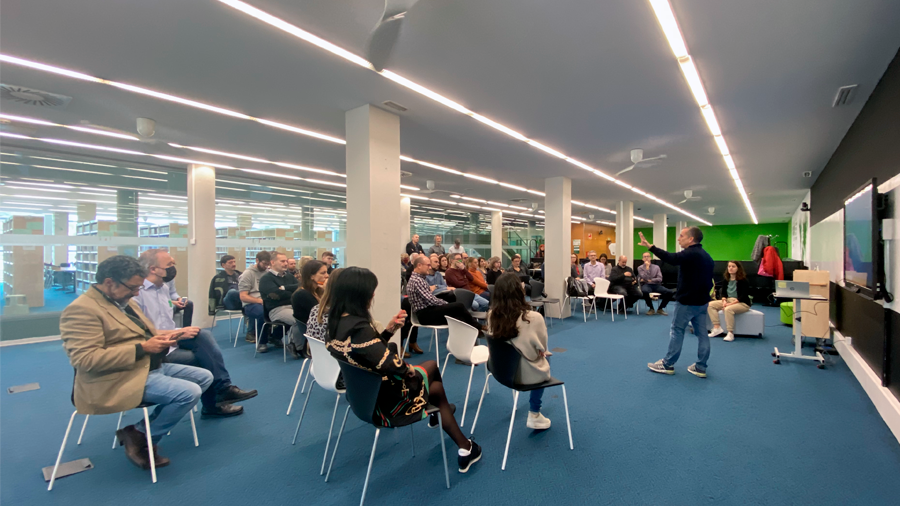 The event, celebrated on 25 November at the Comtec Hall of the UAB Library of Communication and General Newspaper Archives, brought together all of those who in some way or other have made it possible to launch the ECIU University here at the UAB.
Màrius Martínez, Vice Rector for International Relations and current president of the ECIU, began his speech with an outline of the pilot programme which has now come to an end: "Today we close a three-year period. This is no longer a project; it is now a programme". Vice Rector Martínez also referred to the importance of the UAB communtiy at the ECIU University and affirmed that "this programme can benefit all members of the university community and it is important for people of such different sectors to build up this European university together".
Xavier Ariño, Head of Unit of the Institutional Projects Office, stated that "we have a very firm commitment with this connection to the region" since the "ECIU University is not something isolated that only exists in a university". In this sense, Xavier Ariño spoke of the importance of local challenges because "they acquire an international dimension thanks to being able to work as a network with other universities".
After viewing the videos in which the representatives of different working groups at the ECIU University talked about the objectives reached in these past three years, the institutional coordinator of the ECIU University at the UAB, Mireia Galí, briefly summarised the phase which will begin soon: "We have been working these three years on how the ECIU University will look like in 2030 because the idea is to become an ecosystem". In the end, there will be 11 thematic areas and three phases which will help to construct the European university.

The event ended with a speech by Project Manager Myra Ronzoni who explained to the attendants the more organisational aspects of this new phase which is starting now.
Good health and well-being
Affordable and clean energy
Responsible consumption and production
Sustainable cities and communities
Partnerships for the goals
Clean water and sanitation