Climate emergency: UAB takes action! New FMUAB19 slogan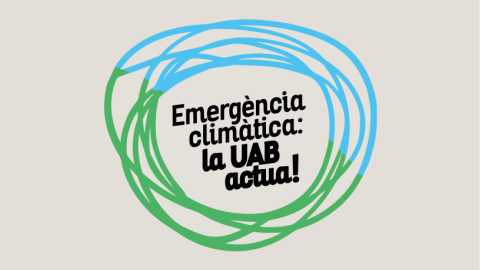 The UAB Government Council reaffirms the Declaration of Climate Emergency and approves the new slogan for the FMUAB19: "Climate emergency: UAB takes action!"
25/07/2019
On May 21st, the UAB Governing team joined the Declaration of Climate Emergency by giving support to the UAB Ecologist Assembly, who wrote an open letter addressed to the university community. In this letter, the assembly members note the responsibility that universities have as "spokespersons of scientific community of the country" to raise the alarm in this crisis.

After listening to the signers' demands, the UAB decided to declare the state of climate emergency and put this crisis as new slogan of UAB Festa Major, which in its last editions it has become a space of awareness due to its impact and will take place on November 7th. According to the philosophy of this slogan, during the academic year 2019/2020 a series of activities and actions to involve the entire university community will be promoted.

On July 4th, the UAB Government Council reaffirmed the Declaration of Climate Emergency and, finally, The FMUAB19 Slogan Commission — formed by the Environmental management area, the Fundación Autónoma Solidaria (FAS), members from the Research Centre for Ecology and Forestry Applications (CREAF), from Institute of Environmental Science and Technology (ICTA) and Biosciences and Science professors, along with the Dinamització Comunitària department — chose "Climate emergency: UAB takes action!" as the new FMUAB slogan.

FMUAB19 Poster Design Contest

The UAB set September 15th as a deadline to present proposals for the traditional FMUAB Poster Design Contest. The contest is addressed to the UAB staff, Alumni and students enrolled in any UAB course.

Each participant may submit up to two proposals either as an individual or as a group. The requirements for the design are explained in the contest rules. The winner will be awarded with a price of 300€ and the image will be posted on Viure al campus website during the month of October. To participate you must to fill in this form.

FMUAB19 Associations Fair

If you are part of a research group, a university service or society or you just want to exhibit your representation body or project to the university community, you can now apply for a stand in the FMUAB19 Associations Fair in Plaça Cívica by filling in this form.

The stands, which will be placed at Plaça Cívica between 1 p.m. and 5 p.m. as usual, are a window to the projects and initiatives at our university, and at the Associations Fair come together all members of the UAB community.

You can check all information about the UAB Festa Major at Dinamització Comunitaria department website and on the FMUAB Facebook page.