The UAB Research Park launches the second edition of the Engega! programme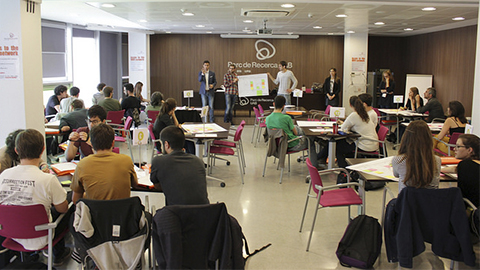 The Engega! programme is a training initiative to help UAB-campus researchers generate market solutions for the energy efficiency and clean technologies sector. Participation is free for members the UAB community and deadline for applications is 9 February 2017.
09/01/2017
After the success of the first edition, the UAB Research Park once again organises, together with Fundación Repsol and the InnoEnergy accelerator, the second edition of the Engega! programme, a training proposal aiming to help researchers find new applications for their technologies in the energy efficiency sector.

The programme will provide researchers with the tools needed to present their technology to the market in the safest and quickest manner. Engega! will be divided into nine sessions which will include the introduction of concepts such as Lean Start up, Business Model Canvas, intellectual property, funding, etc. During the programme participants will acquire the bases to create a three-year business plan for their project. This will give them the opportunity to be selected for Phase II of the external evaluation by the Fundación Repsol's Entrepreneurs Fund Community and InnoEnergy's CleanTech Camp acceleration programme.

The programme is addressed to researchers, PhD students and firms with technologies that stand out for using procedures or technologies that represent significant contributions to the field of energy saving and energy efficiency.

The programme is free for members of the UAB campus. All participants must sign up as a group, with a minimum of two members and a maximum of five. The programme has a fee of 150 Euros for non-members and firms. All those interested in participating must apply using the online for at this website. Deadline for applications is 9 February 2017.

Results of the First Edition
The first edition of the Engega! programme included 41 participants from 6 research centres located on the UAB campus. They worked on 12 projects, five of which were preselected by the Fundación Repsol and one went on to be the winner of the CleanTech Camp 2016.