The UAB launches a programme to help students find internships and jobs in the EU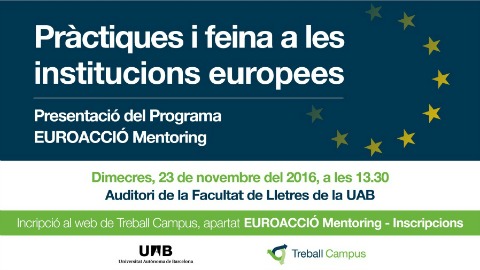 Interested in finding an internship or job in European institutions? The UAB launches the Euroacció programme with the aim of fostering the presence of students and graduates in European organisms and institutions and offering them information and training.
16/11/2016
Euroacció is a pioneering programme designed by the UAB with the aim of promoting practical training and work insertion of students and graduates interested in a professional career in organisms and institutions of the European Union. The programme has been created by the technical team of Treball Campus and the Alumni-Friends of the UAB Foundation, in coordination with the Office of the Vice Rector for Students and Employability.

The programme is based on four main axes: dissemination, training, mentoring and a visit to European institutions for students interested in working for the EU. Throughout the year training and dissemination activities will be offered, all related with EU issues, such as a module on orientation and resources when looking for a job in Europe, a preparation course for EU exams, individualised orientation sessions and a visit to European institutions. The most interesting aspect of the Euroacció programme is the possibility of helping university students and graduates come into contact with former students who are currently working in Brussels with the aim of creating mentors.

This mentoring would help students feel accompanied at the beginning of their career in a very specific area such as the EU. Working in European institutions requires a specific type of training with very concrete codes of action, and this is where mentors can help students by explaining aspects which would help make their integration into this professional world much easier. A mentor has professional experience and a network of contacts which can be very useful to a student when they begin discovering the institutional environment of the European Union.

There are currently 600 UAB graduates working in Brussels, both in EU organisms and in other international organisations, media channels and NGOs. Some 40 of these former UAB students participate in the Euroacció programme as mentors.

More information on the programme will be offered at its official presentation on Wednesday 23 November at 1:30 p.m. at the Faculty of Philosophy and Arts. All those interested are welcome to come!

More information can be found at the Treball Campus website.