Celebrating 25 years of the Olympic Games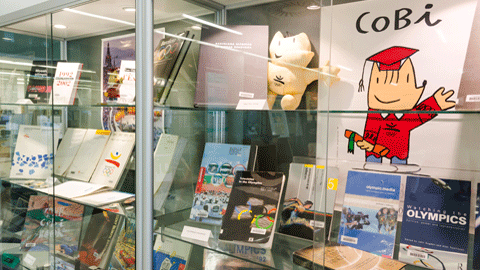 Twenty-five years have passed since the Olympic and Paralympic Games took place in Barcelona. In commemoration of those events and their legacy, the UAB has organised an exhibition which will be on display until September.
19/07/2017
Twenty-five years after hosting the Olympic and Paralympic Games in Barcelona, an exhibition at the entrance hall of the UAB Communication Library and General Newspaper Archives offers a glance at the sports events of 1992 and the social transformations they brought with them. The exhibition, which will be on display until September, is organised by the library and the UAB Centre for Olympic and Sports Studies (CEO).

On 25 July 1992, the 25th modern Olympic Games were inaugurated at the Barcelona Olympic Stadium. Organisation-wise, the event was a complete success and was a decisive influence in the urban and economic development of the city. The games also had a great effect on the UAB with the construction of the Vila Universitària and the Veterinary Clinical Hospital, as well as the creation of the CEO, a leading centre in the research, documentation, training and dissemination of events related to the Olympic Games and sports in general.

The exhibition contains samples of these events and shows the relevance they had in the social transformations which have become part of the legacy of the Olympic games a quarter of a century later.

Commemorating the Games

The CEO also participates in other activities celebrating the 25th anniversary of the Olympic Games. The centre has contributed with contents for the Barcelona Olímpica website, dedicated to the Barcelona Olympic Games, and has also collaborated in the organisation of the Viquimarató Barcelona 92, which brought together Wikipedia editors to work on the elaboration and improvement of entries related to the games.
More information: Olympic Studies Centre (CEO-UAB)
Libraries