International Welcome Days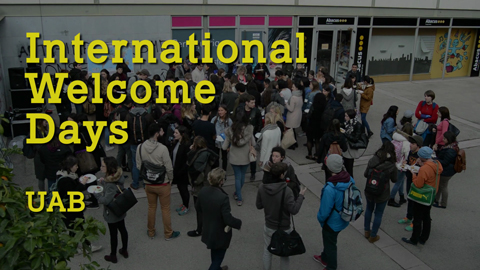 The International Students Welcome Days (IWD) of the year 2017-2018 will take place from 12th to 16th September 2017.

It will be a week plenty of activities, training workshops and gatherings organized for international students to get to know the UAB student societies. Moreover, we will be having an international lunch where each of you may bring and share typical dishes from your country. The IWD are a great chance for you to know more about the UAB and, thus, make the most of your stay in Barcelona. On the IWD you can also meet other newly arrived international students and local students that participate as a Mentor.

Here you can take a look at the program of activities:

Tuesday 12th

12.00h Student's societies and UAB services Fair. More information.
13.00h International Student's Welcome at the UAB Cinema.

Wednesday 13th

12.00h Introduction about how to be a volunteer at the UAB, by the Autonomous Solidarity Foundation, at the Sala Annexa of Hotel d'estitats. More information and Registration.
13:00h International Lunch. In front of the Centre de Recursos per a Col·lectius. More information.
15.00h Participate in the Tàndem Program. Sala Annexa de l'Hotel d'Entitats.

Thursday 14th

12.00h Catalan from scratch, by Language Services, in Sala Annexa de l'Hotel d'Entitats. More information and registration.
13.00h Opening workshop of human towers. By the students' group Ganàpies de la UAB. Plaça Cívica.
15.00h ESN (Erasmus Student Network) presentation, at the cinema of the UAB.

Friday 15th

11.00h Know about the Protocol against sexual harrassment in the UAB, by Observatory for Equality UAB. At Sala Annexa of the Hotel d'Entitats. More information and registration.
13.00h Find out about the cultural activities in the UAB. By Cultura en viu. More information and registration.

Saturday 16th
12.00h Walk around Barcelona and picnic at Ciutadella Park. Meeting point at Plaça Catalunya.