ECIU University at the UAB Teaching Innovation Days
Màrius Martínez, Vice Rector for International Relations at the UAB and current President of the ECIU; Mireia Galí, ECIU University Institutional Coordinator at the UAB; Sílvia Blanch, coordinator of the teaching work package of the ECIUn+; and Daniel Franco, local manager of the work package on micro-credentials of the ECIUn+, offered a conference on the ECIU University and challenge-based learning. At the UAB Teaching Innovation Day, held this past 10 May at the UAB Rectorat building, lecturer Sònia Casillas from the Department of Genetics and Microbiology was also awarded the 5th Teaching Excellence Award.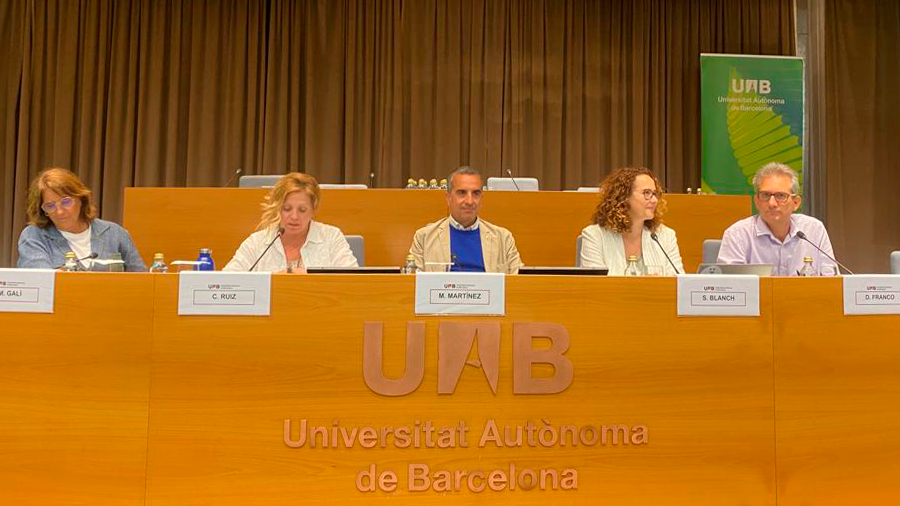 Màrius Martínez explained that "we have been working for 4 years to build an international institution that can carry out research, teaching and co-creation processes in an innovative way". He also referred to the importance of the ecosystem where the UAB is located, since "we want to become an institution capable of capturing challenges of the territory, working together and transforming them into training activities that provide valuable solutions". Vice Rector Martínez also explained the need for micro-credentials that allow lifelong learners to build their itineraries in an "agile and flexible" way.
Teaching Innovation Day
This information session formed part of the UAB Teaching Innovation Day, which began with a brief speech by María Valdés, Vice Rector for Studies and Teaching Innovation, who alongside Carmen Ruiz Bueno, coordinator of Professional Development for PDI, pointed out the increasing value of teaching innovation and mentioned articles in which the new organic law on universities (LOSU) highlights this method: "the current winds are blowing in favour of teaching innovation. The GPT chat and artificial intelligence are a challenge for current teaching methodologies".
The session also included an awards ceremony in which lecturer Sònia Casillas from the Department of Genetics and Microbiology received the 5th Teaching Excellence Award for her innovative profile in the field of biosciences, in which she has become a leading figure of teaching innovation in her faculty.
The director of the International Science Teaching Foundation, Hèctor Ruíz Martín, also gave a conference on teaching innovation based on scientific evidence, in which he covered in detail different issues related to teaching and learning processes.
More information: article on the Teaching Innovation Day
Quality education
Partnerships for the goals