Ládio Veron explains the struggle of Guarani-Kaiowá communities at the UAB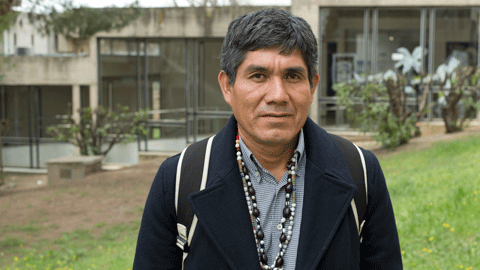 The Guarani-Kaiowá communities live mainly in the Brazilian state of Mato Grosso do Sul. As part of a European tour, Ládio Veron will be talking about his reality and problems with the Brazilian government in a conference which will be offered on 21 March at the Faculty of Arts and Humanities.
16/03/2017
On 21 March, the Faculty of Arts and Humanities will host a conference with indigenous representative Ládio Veron, who will talk on the reality of the Gaurani-Kaiowá communities of Brazil. Veron is travelling to Catalonia to explain the situation of his people and set up a cooperation network in Europe. The event will take place at 11:30 a.m. in Room 601 and is organised by the Department of Social and Cultural Anthropology.

The Guarani-Kaiowá communities are affected by an ordinance of the Brazilian government of Michel Telmer making it more complicated to obtain the legal registration of land or maintain the ones already registered; something which is also a problem for other native people of Brazil. The ordinance favours business interests in the area and weakens the role of the National Indian Foundation (FUNAI), the Brazilian government body which establishes and carries out policies relating to indigenous peoples. Veron, in addition, denounces the unending bureaucratic paperwork they face when wanting to legally protest against something, as well as the repression suffered during demonstrations in which they demand their rights be respected.

Veron was chosen as the representative of his community on this trip by the great Guarani-Kaiowá assembly Aty Guaçu. The objective is to establish ties in Europe with other communities and create an international network which can give support to their cause. They aim to invite member organisations to visit Mato Grosso do Sul and meet with the Guarani-Kaiowá communities and work on joint collaborations.