31/07/2019
Universitat Autònoma de Barcelona participates in a capacity-building workshop to promote an international network on Antimicrobial Resistance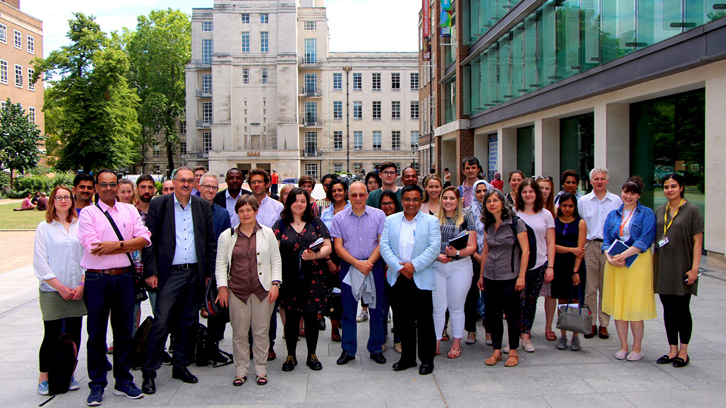 An international capacity-building workshop was recently organized at Birkbeck University of London to tackle antimicrobial resistance and accelerate new antibiotic discovery. The event sponsored by the global challenges research fund (GCRF) was organized by Prof. Sanjib Bhakta, head of Microbiology Research Unit at the Institute of Structural and Molecular Biology (ISMB). An intense scientific session gathered UK researchers together with continental Europe and Oversea teams. Antimicrobial Resistance was addressed by a multidisciplinary point of view, from Structural Biology, Genomics, Transcriptomics and Synthesis Chemistry to drug design.

Coming from the Universitat Autònoma de Barcelona (UAB), Ester Boix, leader of the UAB research group on Human Host Defence Ribonucleases, presented her latest research work to target human antimicrobial peptides against bacterial resistant forms. Thanks to the use of the high-throughput SPOTi methodology to screen for novel antitubercular drugs, developed in Prof Bhakta's laboratory, the research group identified host defence RNases active against mycobacteria infected cells and unravelled their antimicrobial mechanism of action (results were recently published in Lu et al. Front Immunol, 2019). The event has provided the opportunity to establish and consolidate a long term collaborative project.

The last scientific session moved from pure Science to Economics of Drug Discovery. Prof Matthew Todd of the UCL School of Pharmacy presented a groundbreaking innovative project on "Open Source Drug Discovery": all data is freely available, all ideas are shared, all researchers are welcome, no results are 'owned' by any of the participants and there will be no patents.

The networking event was closed down by a Science Communication talk illustrated with frightening scenes from a fictional account of a possible post-antibiotic future. Hopefully, initiatives such as the present event organized by Birkbeck University of London will strengthen the cooperation links between research laboratories to join all available efforts to revert this situation on time. The Workshop has offered a framework to gather a multidisciplinary expertise and encourage fund raising resources to altogether fight Antimicrobial Resistance.
Ester Boix
Department of Biochemistry and Molecular Biology
Universitat Autònoma de Barcelona
References
More information on:
http://blogs.bbk.ac.uk/events/2019/07/23/antibiotic-resistance-a-challenge-to-rival-climate-change/