Undergraduate students and teaching staff participate in two Erasmus+ programmes in Belgium and Austria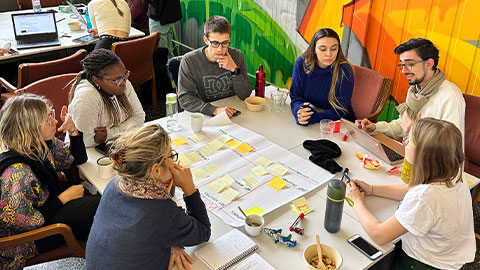 Through a scholarship, 4 students travelled to Brussels as part of the Erasmus+ SUHET programme, to take part in a high quality intensive training programme in luxury or high-end tourism and sustainability. In addition, 8 undergraduate students visited the Carinthia region of Austria, to develop entrepreneurial and sustainable projects through the Erasmus+ DEVOS programme.
16/01/2023
Last semester, 12 students from the Degrees in Tourism and Hotel Management participated in international mobility stays through two Erasmus+ programmes, funded by the European Union.
Between 30th November and 2nd December 2022 the intensive training programme of the Erasmus+ SUHET programme was held, aimed at promoting high quality training in the field of luxury or high-end tourism (sustainable high-end tourism), to foster its sustainability, and the sustainability of the tourism sector at large.
During the week, the students Ivet Huguet, Pau Guerrero, Carmen González and Júlia Vallejo -alongside their teacher Francesc Romagosa- participated in different training activities with representatives from the universities involved in the project - the Erasmushogeschool de Bruselas (Belgium), the Universidad de Maribor (Slovenia) and Lapin AMK de Rovaniemi (Finland).
The classroom sessions included contents from the new Massive Open Online Course (MOOC) which is being prepared on sustainable high-end tourism. The participants also went on several field visits to different places in Belgium where they had an opportunity to meet, first-hand, tourism companies in the luxury sector, and to learn about their sustainability management.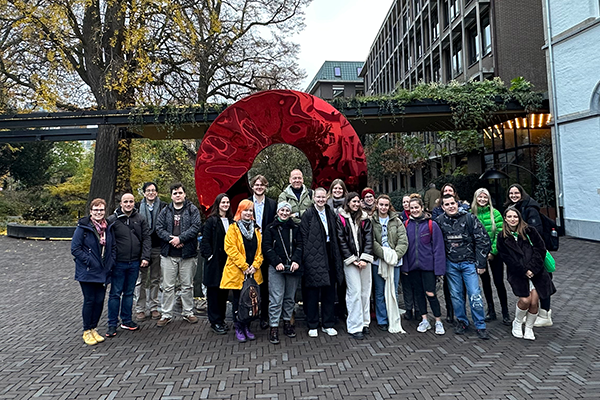 Students and teaching staff from the SUHET programme during the visit to the Botanic Sanctuary Antwerp | Image: SUHET programme
At the same time, undergraduate students Helena Flo, Esther Ramírez, Daniel Sahuquillo, Ángela Sanchez, Laia Herraiz, Sofia Bijloo, Paula Herranz and Miguel Puertas were part of the Erasmus+ DEVOS (Developing Outstanding Sustainable Entrepreneurship Competences) programme, promoted by the teachers Anna Zinenko and Eithne Knappitsch (Carinthia University of Applied Sciencies).
The students travelled to Klagenfurt (Austria) from 1st to 6th December to take part in different work sessions on sustainable enterprise and the development of innovative ideas that respond to the Sustainable Development Goals (SDG).
It is the first time that the Degrees of Tourism and Hotel Management have participated in a project of these characteristics, known as the blended intensive programme, which combines both online and face-to-face formats -in the case of DEVOS it took place a few weeks prior to the meeting-.
In total, 48 students from Carinthia University, the University of Ljubjiana, the Università degli Studi di Udine and the UAB participated.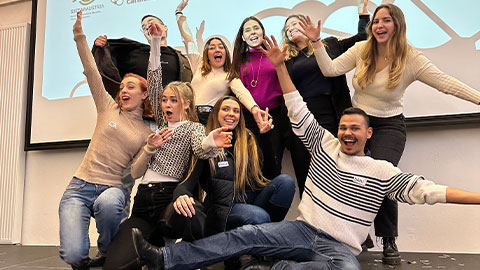 Students from the UAB who participated in the Erasmus+ DEVOS programme in Austria, after presenting their proposals to a jury of entrepreneurs | Image: DEVOS programme